Pet Parrot Learns to Control Robot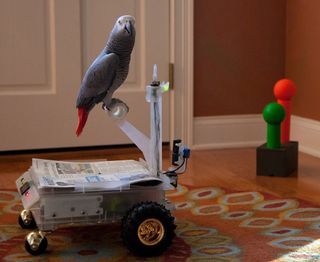 (Image credit: Andrew Grey)
An African grey parrot has learned to steer its own robot as it roams around its owner's house.
The robotic BirdBuggy came from the mind of Andrew Grey, an engineering student at the University of Florida, according to The Alligator. BirdBuggy has a joystick that allows Pepper the parrot to control its motion in four directions, as well as front bump sensors that cue the robot to automatically back away from objects.
Whenever Pepper's playtime is over, the robot can dock itself at a base charging station by using an onboard webcam to steer itself to the right spot.
Grey created BirdBuggy as a possible solution to stop Pepper from screeching whenever it was left alone. The parrot's clipped primary feathers prevent it from flying around to follow its human owners. (The birds can eventually grow back their clipped feathers and regain the ability to fly.)
In a sense, the bird represents a disabled creature using a technological aid similar to how a human might use a wheelchair or robotic exoskeleton.
Still, Pepper could simply see the robot as an oversized toy rather than a vehicle with a purpose. But the parrot clearly likes having control over the robot — it reportedly throws a fit whenever the robot goes into autonomous self-docking mode and doesn't respond to the tugs of its beak on the joystick.
Other animals have previously demonstrated the ability to control robots or robotic appendages with just their minds alone. Monkeys have shown that they can learn the thought patterns necessary to control robotic arms in the lab well enough to feed themselves.
Source: The Alligator via Jalopnik via DVICE
This story was provided by TechNewsDaily, a sister site to LiveScience. You can follow TechNewsDaily Senior Writer Jeremy Hsu on Twitter @jeremyhsu. Follow TechNewsDaily on Twitter @TechNewsDaily, or on Facebook.
Stay up to date on the latest science news by signing up for our Essentials newsletter.
Jeremy has written for publications such as Popular Science, Scientific American Mind and Reader's Digest Asia. He obtained his masters degree in science journalism from New York University, and completed his undergraduate education in the history and sociology of science at the University of Pennsylvania.