U.S. Baby Meets 'Robot' Dad in Iraq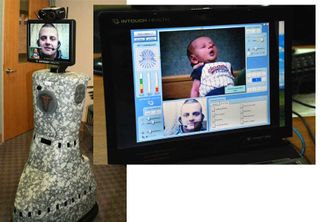 (Image credit: U.S. Army)
Army Staff Sgt. Erik Lloyd, who is stationed in Iraq, used a remote-controlled telepresence robot to see and interact with his family and seven day-old son in Texas.
The (rather good-looking) camo-enhanced device has a live video uplink and responds to remote control.
This technology has been around for quite a while (see the InTouch Companion: Medical Rounding Robot for a 2004 example), but this is the first time I've heard about it being used by distant dads to interact with their families.
There's something just a little bit creepy about this being the first interaction that a 7 day-old has with his father. However, the remotely-operated robot does present mostly the face and voice of the father, which is what the child will probably focus on. Also, there's no doubt that it provides a means for the dad to be a part of the stateside family life, which is great.
I prefer the more spartan HeadThere Giraffe Telepresence Robot for this particular usage; it has a kind of "mirror, mirror on the wall" look to it that seems more like a display and less like a person.
And if you really wanted to blow the kid's mind, I'd use the Robonaut Centaur, a NASA-designed lunar-roving robot, because you could use it to actually hold your new son with its robotic arms. I can just hear him a year or two later - "My dad has wheels and superpowers - how about your dad?"
When the baby grows up, he might have the chance to use a telepresence robot himself; see the PEBBLES Robot - Teleconferencing For Kids.
(This Science Fiction in the News story used with permission of Technovelgy.com)
Vote: Your Favorite Robot
Quiz: Great Inventions
Stay up to date on the latest science news by signing up for our Essentials newsletter.
Bill Christensen catalogues the inventions, technology and ideas of science fiction writers at his website, Technovelgy. He is a contributor to Live Science.