Raptors Grab a Breather at San Francisco's Hawk Hill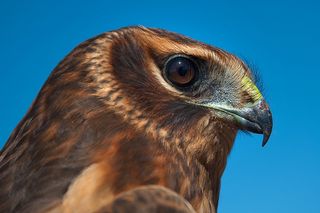 (Image credit: Walter Kitundu.)
In autumn, hawks and other birds of prey heading south for the winter funnel through Hawk Hill in the Marin Headlands north of San Francisco.
At 920 feet (280 meters) in elevation, the mountainous site, home of the Golden Gate Raptor Observatory (GGRO), is the perfect launching point for crossing the windy Golden Gate and San Francisco Bay. At one time, scientists believed the raptors resting at Hawk Hill were afraid of crossing open water, said Allen Fish, director of the GGRO. Now, Fish thinks the birds may be testing the area's tricky wind patterns and figuring out the easiest path.
"I've seen turkey vultures go directly over Golden Gate Bridge and ospreys fly out over the edge of the water," Fish told OurAmazingPlanet. "There are 19 different species, each with their own flying abilities," he said.
This year's numbers
This year's migration seems to be a better-than-average flight, Fish said. Since mid-August, volunteers have spent sunny days at the observatory spotting birds as they gather to glide on the rising thermals(bubbles of warm air). At the season's halfway point, they have counted 15,000 raptors and 18 of the 19 monitored species that pass through, Fish said. Due to the sheer number of raptors, people count hawks per hour, rather than try to identify and track individual birds. The peak day so far was Sept. 27, with 205 sightings in an hour and 822 for the day.
The numbers mean bird-watchers see group behaviors in the raptors, such as kettling — birds circling the same thermal. "To me, it almost looks like they have an invisible bungee cord that keeps them 20 to 25 feet apart," Fish said of a hawk kettle he saw on Sept. 27.
Since tracking began in 1986, the populations of peregrine falcons, merlins and red-shouldered hawks have increased, the GGRO reports in published studies. None of the 19 monitored raptor species is clearly declining, although American kestrels have dipped in the past five years. [7 Iconic American Animals]
Rare species (for the West) often turn up during fall migration season, such as broad-winged hawks. Their normal range is the eastern United States and Canada. The most common species are red-tailed hawks and turkey vultures.
Early visitors
One earlier-than-normal visitor in 2012 was the rough-legged hawk, who arrived from the tundra on Oct. 12 but usually appears around Nov. 1. "It's the earliest I've ever seen. I don't know if I buy into the story, but an early migration means that fall will be coming on pretty quick," Fish said.
Another Arctic traveler who regularly passes through Hawk Hill is the Swainson's hawk. Their amazing migration spans from northern Canada to Argentina, averaging about 14,000 miles (22,500 kilometers).
But not all raptors at the observatory are transients. GGRO scientists and volunteers also band and tag birds, also attaching radio transmitters to track their migration path. Through these efforts, they learned some raptors never leave San Francisco.
"If you look up and see a peregrine falcon, it might be heading for Tierra del Fuego along the southern Chilean coast or it might never leave Marin," Fish said.
The Golden Gate Raptor Observatory will continue monitoring the raptor migration through Dec. 9. For more information, visit http://www.ggro.org.
Reach Becky Oskin at boskin@techmedianetwork.com. Follow her on Twitter @beckyoskin. Follow OurAmazingPlanet on Twitter @OAPlanet. We're also on Facebook and Google+.
Stay up to date on the latest science news by signing up for our Essentials newsletter.
Becky Oskin covers Earth science, climate change and space, as well as general science topics. Becky was a science reporter at Live Science and The Pasadena Star-News; she has freelanced for New Scientist and the American Institute of Physics. She earned a master's degree in geology from Caltech, a bachelor's degree from Washington State University, and a graduate certificate in science writing from the University of California, Santa Cruz.