New Tricycle Morphs into Bike on the Go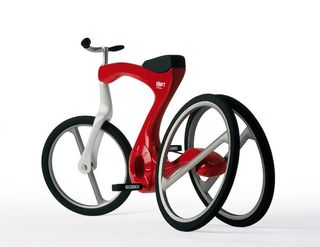 (Image credit: Purdue University.)
The days of Mom and Dad running anxiously behind their child's first bicycle may be over.
A new trike-bike design lets kids learn to ride on their own by giving them three-wheel stability at low speeds, while letting them experience the balanced freedom of a two-wheeler at high speeds.
At rest, the thing looks like a tricycle with crooked wheels. But as the rider gains speed, the back wheels fold in to become more like one wheel. As the rider brakes, the 16-inch rear wheels open back up to prevent tipping over.
"Our bike allows children to learn how to balance themselves as they ride instead of looking back to see if their parent is still holding the bike," said Scott Shim of Purdue University. "This bicycle, which is for toddlers, was designed with my 4-year-old son, Kevin, in mind."
Shim, a consumer electronics researcher, developed the toddler bike - called SHIFT - with two of his students. The design won the $15,000 first prize at the 9th International Bicycle Design Competition in Taiwan, beating out 853 entrants from 56 countries.
Last fall, SHIFT was selected for the final round of competition, in which 24 teams were given three months to create a quarter-scale model of their design.
Other entries included a bike that converts into a shopping cart, another that moves by a skiing motion, and one for walking the dog - with a foldout seat when the pooch gets tired.
The SHIFT design was announced the winner in March. Shim and his collaborators then built a working prototype to exhibit at the Taipei International Cycle Show.
"Now, we are waiting to hear from manufacturers who have expressed interest in producing the design," Shim said.
Related Stories
Real Robots: Vote for Your Favorite
Stay up to date on the latest science news by signing up for our Essentials newsletter.
Michael Schirber began writing for LiveScience in 2004 when both he and the site were just getting started. He's covered a wide range of topics for LiveScience from the origin of life to the physics of Nascar driving, and he authored a long series of articles about environmental technology. Over the years, he has also written for Science, Physics World, andNew Scientist. More details on his website.