11 Hottest Years Occurred in Past 13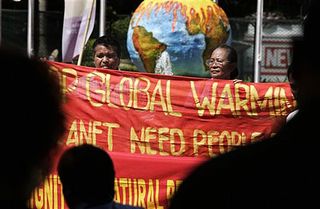 (Image credit: Ed Wray/AP)
New climate data indicate this year might be one of 11 of the hottest years on record, all of which have occurred in the past 13 years.
Announced today at United Nations global climate change talks in Bali, Indonesia, the conclusion stems from global climate records dating back to 1850 and new data collected from January through November 2007. So far, 2007 has been the seventh hottest year on record.
"The last few days have provided an important platform for debate and confirms the need for swift action to combat further rises in global temperatures because of human behavior," said Vicky Pope, head of climate predictions at the Met Office Hadley Center for Climate Change in England, from the Bali conference.
Scientists and politicians at the conference are discussing plans to reduce greenhouse gas emissions, which have been linked to rising global temperatures.
While 2007 is shaping up for seventh hottest in the worldwide category, different regions have seen more marked increases in temperature. The half of the planet north of the equator, for example, may be just shy of an all-time annual heat record.
"2007 was warmer in the Northern Hemisphere, where the year ranks second warmest, than the Southern Hemisphere, where it ranks ninth warmest," said Phil Jones, a climatologist at the University of East Anglia in England. "The year began with a weak El Nino — the warmer relation of La Nina — and global temperatures well above the long-term average. However, since the end of April the La Nina event has taken some of the heat out of what could have been an even warmer year".
Across the United Kingdom, 2007 is on course to break all previous warm temperature records.
Even if December's average temperature is 1.8 degrees Fahrenheit (1 degree Celsius) below the 1971–2000 long-term average, it would still be the area's third warmest since 1914. Of the UK's 94 years of local records, 2002 through 2007 are set to become the six warmest years ever for the region.
The top 10 hottest years globally (based on anomalies from average global temperature from 1971 through 2000) include:
1998 – 0.94 degrees Fahrenheit (0.52 degrees Celsius) above average
2005 – 0.86 degrees Fahrenheit (0.48 degrees Celsius) above average
2003 – 0.83 degrees Fahrenheit (0.46 degrees Celsius) above average
2002 – 0.83 degrees Fahrenheit (0.46 degrees Celsius) above average
2004 – 0.77 degrees Fahrenheit (0.43 degrees Celsius) above average
2006 – 0.76 degrees Fahrenheit (0.42 degrees Celsius) above average
2007 – 0.74 degrees Fahrenheit (0.41 degrees Celsius) above average
2001 – 0.72 degrees Fahrenheit (0.40 degrees Celsius) above average
1997 – 0.65 degrees Fahrenheit (0.36 degrees Celsius) above average
1995 – 0.5 degrees Fahrenheit (0.28 degrees Celsius) above average
As for the effects of an unusually hot 2007: "This year has also seen sea-ice extent in the Northern Hemisphere below average in each month of 2007, with record [minimum] sea-ice reported in July, August and September," said climate scientist David Parker, also with the Met Office Hadley Center for Climate Change.
Sea-ice coverage in the Southern Hemisphere, however, has remained close to average, Parker said.
Timeline: The Frightening Future of Earth
Stay up to date on the latest science news by signing up for our Essentials newsletter.
Dave Mosher, currently the online director at Popular Science, writes about everything in the science and technology realm, including NASA's robotic spaceflight programs and wacky physics mysteries. He has written for several news outlets in addition to Live Science and Space.com, including: Wired.com, National Geographic News, Scientific American, Simons Foundation and Discover Magazine. When not crafting science-y sentences, Dave dabbles in photography, bikes New York City streets, wrestles with his dog and runs science experiments with his nieces and nephews.