New 3D Software Transforms Coloring Page into Animated Scene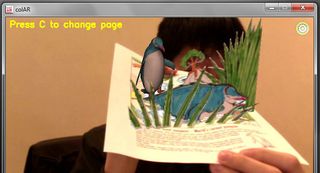 (Image credit: TechMediaNetwork | 3D image made with colAR)
That six-year-old kid bent over a coloring book may become a 3D artist when he grows up—you never know. Now a new program can help him get a taste of that future, faster. Members of the Human Interface Technology Lab in Christchurch, New Zealand, have written a program that turns a colored-in coloring page into a 3D, animated scene. They first showed their program at conferences in 2011, and on March 5, they won best "Tech Note," or short paper, at the Institute of Electrical and Electronics Engineers' 3D User Interfaces conference. They're offering their program, colAR, for free on their website.
To use colAR, parents (or other curious adults) print out the kiwi bird and yellow-eyed penguin pages from "Amazing Animals of New Zealand" by the New Zealand Department of Conservation. The pages are included in the free download. Kids then color in the pages.
Then they hold up their coloring to the camera of a computer installed with the colAR software. The software scans in the coloring through the camera. Soon, a 3D image of the drawing shows up on the computer screen. Most features in the picture look like flat paper pop-ups. The kiwi and penguin, however, show up as round, 3D birds that are animated to stretch and nose around the leaves in the scene. Users can move the drawing or the camera around to view the 3D scene at different angles.
To help the software recognize all the elements in the coloring page scene, no matter how they've been colored in, the program automatically removes all the color from the pages it sees through the camera. Once it's found all the birds, leaves and grass it's looking for, it adds the coloring back onto the 3D-rendered drawing. When they're added back in, the colors have the same textures as the original drawing.
Having kids color in a page before it's rendered in 3D lets them interact with the technology, the researchers wrote in their paper.
If some kiwi-coloring kid does find his inspiration for a 3D art career after using colAR, the researchers will hopefully make a program in the future that lets him make 3D art without needing to know how to program his own 3D models. According to an abstract the programmers submitted to an interactive conference in 2011, they plan to use the techniques in colAR to create easy-to-use programs for artists to make 3D models.
This story was provided by InnovationNewsDaily, a sister site to Live Science. You can follow InnovationNewsDaily staff writer Francie Diep on Twitter @franciediep. Follow InnovationNewsDaily on Twitter @News_Innovation, or on Facebook.
Stay up to date on the latest science news by signing up for our Essentials newsletter.