Finding the Best Treatments for the Fight Against Cancer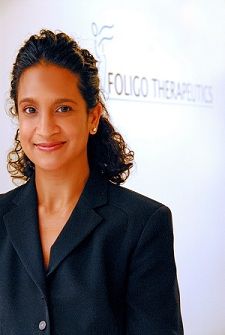 (Image credit: Foligo Therapeutics, Inc.)
This ScienceLives article was provided to LiveScience in partnership with the National Science Foundation.
Mona S. Jhaveri founded Foligo Therapeutics, Inc. in 2006, a start-up biotech company developing molecular-based therapeutics and "companion" diagnostics for the treatment of ovarian cancer and other cancers. Jhaveri completed her doctorate in biochemistry at Wake Forest University. From 1997-2001 Jhaveri trained as a post-doctoral fellow at the National Cancer Institute in Bethesda, Md., where she discovered FOLIGO's lead therapeutic compound, FOLIGO 002.
Jhaveri was granted the SPORE Fellowship Award for Breast Cancer Research at the Lombardi Cancer Center of Georgetown University in 2001, where she continued to develop FOLIGO 002 as a potential treatment for cancer. Jhaveri subsequently specialized in intellectual property and technology transfer at the Ludwig Institute for Cancer Research from 2002-2005. Jhaveri resides in Washington D.C. with her husband and two children.
Jhareri participated in the NSF-funded ACTiVATE® program, an entrepreneurship training program that teaches technical and business skills to help women create their own companies.
Learn more about Jhaveri as she answers the 10 ScienceLives Questions.
Name: Mona Jhaveri Age: 41 Institution: Foligo Therapeutics Field of Study: Biochemistry
What inspired you to choose this field of study?
I was inspired by the challenge of understanding disease at the molecular level, and from there, developing cures to extend people's lives. This potential felt very powerful.
I was specifically intrigued by the importance of biochemical pathways that seem insignificant at a macro level, but are crucial to the health and function of our organs and body as a whole.
What is the best piece of advice you ever received? My father told me that successful people fail on their way to the top. I think it's true.
What was your first scientific experiment as a child? My first experiment as a child was to test a hypothesis that a little sugar placed deep in an open jar left outside our house in the summer, would attract a swarm of ants by morning. Turned out to be true.
What is your favorite thing about being a researcher? Discovering something new that no one appears to have understood before or that is contrary to conventional thinking. It is most exciting when the new finding can explain something about a disease that perhaps could be a building block to a cure. Having the ability to do this is such a gift.
What is the most important characteristic a researcher must demonstrate in order to be an effective researcher? The most important characteristic in research is being "laser" focused — having a clear vision of what you are doing and where you are going. This is especially important when things do not go as you predicted.
What are the societal benefits of your research? If you are lucky enough to develop a better diagnostic than what exists, or even a therapeutic that improves survival or quality of life, this is clearly beneficial to society.
Who has had the most influence on your thinking as a researcher?
I have been fortunate to work with some great scientists. The most influential for me was Pat Elwood, with whom I co-developed a patented technology that led me to eventually start up a biotechnology company devoted to curing ovarian cancer.
What about your field or being a researcher do you think would surprise people the most? In research, the most important discoveries happen by accident, when you're not looking, and they always seem to contradict conventional thinking.
If you could only rescue one thing from your burning office or lab, what would it be? The unpublished data.
What music do you play most often in your lab or car? Country music is my favorite — LeAnn Rimes, Patsy Cline, Patty Loveless, The Dixie Chicks, even Roseanne Cash — all great.
Editor's Note: This research was supported by the National Science Foundation (NSF), the federal agency charged with funding basic research and education across all fields of science and engineering. Any opinions, findings, and conclusions or recommendations expressed in this material are those of the author and do not necessarily reflect the views of the National Science Foundation. See the ScienceLives archive.
Stay up to date on the latest science news by signing up for our Essentials newsletter.