How to Prevent Low-Back Pain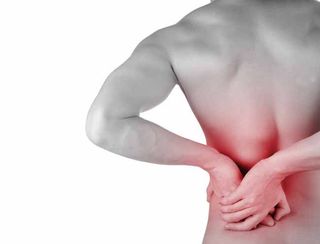 This is Part 2 of a 3-part series on back pain. The first column was about causes. This one is about prevention.
Back pain is very common. It affects about 8 out of 10 people. But there are many steps you can take to avoid it. One of the best things you can do to prevent back pain is to exercise regularly and keep your back and abdominal muscles strong.
A program of regular low-impact exercises such as walking, swimming, or riding a bike—mobile or stationary—will be beneficial. Yoga can also help stretch and strengthen muscles and improve posture. Ask your doctor for a list of exercises appropriate for your age and physical condition.
Here are some quick pointers to prevent back problems:
Always stretch before any strenuous physical activity.
Don't slouch when standing or sitting. When standing, keep your weight balanced on your feet. Curvature of the spine puts stress on back muscles.
Sit in chairs or car seats with good lumbar support. Switch sitting positions often and periodically walk around or gently stretch muscles to relieve tension.
Don't bend over without supporting your back. For example, don't lean over a low sink without bracing yourself with your hand. Also, don't reach and lift an object out of a car trunk; first slide the object to the edge of the trunk.
Wear comfortable, low-heeled shoes.
Sleep on your side to reduce any curve in your spine. Always sleep on a firm surface.
Don't try to lift objects too heavy for you. Lift with your legs keeping your back straight. Keep the object close to your body. Do not twist when lifting.
Try to control your weight, especially weight around the waistline that taxes lower back muscles.
If you smoke , quit. Smoking reduces blood flow to the lower spine and causes the spinal discs to degenerate.
To keep your spine strong, as with all bones, you need to get enough calcium and vitamin D every day. These nutrients help prevent osteoporosis, which is responsible for a lot of the bone fractures that lead to back pain.
Calcium is found in dairy products; green, leafy vegetables; and fortified products, like orange juice. Your skin makes vitamin D when you are in the sun. If you are not outside much, you can obtain vitamin D from your diet: almost all milk and some other foods are fortified with this nutrient. Most adults don't get enough calcium and vitamin D, so talk to your doctor about how much you need per day.
In most cases, it is not necessary to see a doctor for back pain because pain usually goes away with or without treatment. However, a trip to the doctor is a good idea if your pain is severe and doesn't improve, or if you have pain after a fall or an injury.
It is important to see your doctor if you have pain along with any of the following problems: trouble urinating; weakness, pain or numbness in your legs; fever; or unintentional weight loss. Such symptoms could signal a serious problem that requires treatment soon.
The Healthy Geezer column publishes each Monday on LiveScience. If you would like to ask a question, please write fred@healthygeezer.com. © 2010 by Fred Cicetti.
Stay up to date on the latest science news by signing up for our Essentials newsletter.
Fred Cicetti is a contributing writer for Live Science who specializes in health. He has been writing professionally since 1963. Before he began freelancing, he was a reporter, rewriteman and columnist for three daily newspapers in New Jersey: The Newark News, Newark Star-Ledger and Morristown Record. He has written two published novels:" Saltwater Taffy—A Summer at the Jersey Shore," and "Local Angles—Big News in Small Towns."