New App Monitors Pet Health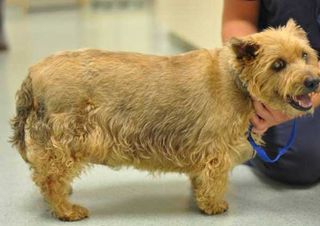 (Image credit: Ernie Ward)
While human calorie-counters learned to monitor their food intake ages ago, pet owners still have a hard time managing the health of their cats and dogs. With the new CUPetHealth App, iPad and iPhone users can digitally crack their animal's food and drug intake, leading to healthier critters and happier masters.
Developed by a class of veterinary students at Cornell University, CUPetHealth gives owners an idea of their pet's body mass index (BMI), lists health information about all the major cat and dog foods, and reminds users when to give their animal's specific medication. By helping to eliminate human error and produce better diets, the CUPetHealth app works to eliminate the two main dangers to pet health, said Joe Wakshlag, an assistant professor of veterinary medicine at Cornell University and the app project leader.
"It's really a user interface to get someone thinking about the health of their animal," Wakshlag told iPadNewsDaily. "The biggest problem we see as a veterinarian is poor compliance."
Just getting the app up to speed forces the user to think differently about their pet's health, Wakshlag said. The app requires that owners weigh their pets and list all their medications, a process that makes people reevaluate the health of their animal.
The app costs $3.99 in the iTunes store, and is updated as new kinds of pet food come out. So far, CUPetHealth only works with dogs and cats, but in the future could include more exotic pets such as birds, lizards and small mammals, said Wakshlag.
Stay up to date on the latest science news by signing up for our Essentials newsletter.
Stuart Fox currently researches and develops physical and digital exhibit experiences at the Science Liberty Center. His news writing includes the likes of several Purch sites, including Live Science and Live Science's Life's Little Mysteries.