Robots Get Soft, Human-Like Skin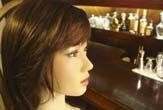 If you hate being touched by your robot because of its cold metallic skin, take heart. Cosmetics manufacturer Kao Corporation and a Keio University research team led by robotics professor Takashi Maeno have developed artificial skin that feels just like yours. Or even softer.
The new artificial outer covering gives you that real human skin feeling by covering a 1-cm thick "dermis" of elastic silicone with a 0.2-mm thick "epidermis" of firm urethane. Countless tiny hexagonal indentations etched into the urethane epidermis provide it with a very realistic texture.
According to the developers, ten out of twelve people agree that it feels like regular human skin. Machines also confirmed that the characteristics of the artificial skin werre similar to the skin of organic, natural humans.
In terms of appearance and touchy-feeliness, this new artificial skin is clearly better than the pressure-sensitive skin previously reported, which uses organic field-effect transistors to fabricate sensitive skin for robots. This would be the perfect thing for the Ultra-Lifelike Robot Repliee Q1.
We can only hope that this new robot skin is as huggable as the artificial epidermis of the Huggable Robotic Companion Bear From MIT, which uses full-body sensate skin consisting of three different types of sensors—electric field, temperature and force—that cover the entire surface of the robot.
For medical applications, this new skin will make remote-teleoperated breast exam robots more usable (see Remote-Controlled Robotic Hand Performs Breast Exams).
Science marches on.
Found the original story at pink tentacle.
(This Science Fiction in the News story used with permission from Technovelgy.com —where science meets fiction.)
Stay up to date on the latest science news by signing up for our Essentials newsletter.
Bill Christensen catalogues the inventions, technology and ideas of science fiction writers at his website, Technovelgy. He is a contributor to Live Science.