Is the iPad Pro worth it for photo editing?
The iPad Pro is pricey, but it could be perfect for editing your nature snaps and astrophotography on the go.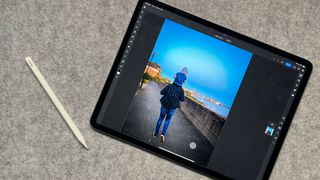 (Image credit: Future)
If you're editing photos out and about, you'll no doubt be reaching for a laptop – but it might not be the best fit for you. While laptops have gotten more powerful over time (I feel like running Photoshop would've made plenty of my older desktop PCs grind to a halt a few years ago), there's a new editing powerhouse on the block.
The iPad Pro M2 is that powerhouse, and while in our review we noted it's a difficult device to recommend in many circumstances (more on that later), it really shines when editing images while you're away from your desk, at the coffee shop, or civilization in general.
As a photographer, you're likely already carrying around a decent amount of kit, be it an astrophotography camera for snapping the night sky or a wildlife camera to photograph animals in their natural habitats, so having something to edit with that's even lighter than a laptop is a real boon.
We've looked at the pros and cons of ditching a laptop or MacBook in favor of the iPad Pro for your portable photo editing.
Price
The iPad Pro with M2 is the best iPad around, but it's not cheap, starting at $799 for the 11-inch, or $1,099 for the 12.9-inch we'll be discussing here.
Add to that the option for an Apple Pencil ($129) and a Magic Keyboard ($299 to $349), and it costs much more than just buying an MacBook Air M2.
So, why choose the tablet? Well if you're a photographer that edits at a desk, you simply shouldn't. You'll get much more mileage out of a laptop that you can connect to a monitor (Stage Manager is improving on the iPad, but it's a way off yet), and you'll save some money in the process.
If you're always on the move, though, the iPad Pro might be a surprise new studio setup for you.
Portability
The main reason to consider a tablet over a laptop is portability. Tablets are just a lot smaller and easier to carry around. But is the difference all that significant these days? Ultralight laptops and the MacBook Air are pretty compact themselves.
There are two models of iPad Pro - the 11-inch and the 12.9-inch models. The iPad Pro 11-inch measures in at 9.74 x 7.02 x 0.23 inches and weighs 466 grams (470 with the cellular version), while the iPad Pro 12.9-inch measures 11.04 x 8.46 x 0.25 inches and weighs 682 grams (685 for the cellular version).
By comparison, the latest MacBook Air M2 13-inch measures in at 11.97 x 8.46 x 0.44 inches and weighs 2.7 lbs / 1.24kg. So, the MacBook is twice and thick and as a result, twice as heavy as the iPad Pro.
Both are great portable machines, but if you're really looking to reduce the load you're carrying about, the iPad Pro is a clear winner.
Display, performance & software
The big conversation starter here is, as you can imagine, the iPad Pro's display. The 11-inch version has a 2388 x 1668-pixel resolution screen, while the 12.9-inch has a 2732 x 2048 display. Both work out at 264 pixels per inch, beating out the 224 pixels per inch you'd find on that 13-inch MacBook Air M2 we looked at earlier
The 12.9-inch XDR version offers 1,000 nits of screen brightness, up to 1,600 nits for HDR content, which is very impressive indeed. The mini LED also allows for a 1,000,000:1 contrast ratio – that's huge for shooting on black or dark backgrounds. Even the 11-inch's SDR screen offers 600 nits, which beats out the 13-inch MacBook Air's 500 nits.
So, while you can get a MacBook Air M2 for cheaper once you account for the accessories, you flat out get a better display on the iPad Pro, and when you're talking about image editing, display quality is everything. You can even use the iPad Pro in reference mode to help with coloring on your images. All you need to do is just connect it to a Mac.
It's not just the display that helps you get genuine creative work done, though, with the M2 chip powering everything on the App Store. Not only does that mean you can enjoy some Netflix or Disney Plus in the corner of your screen while you plan out your next setup in Freeform (Apple's infinite canvas/whiteboard app), but it also means you can run (almost) fully fledged instances of Photoshop.
There are some caveats, of course. Photoshop on iPad Pro isn't quite up to its macOS or Windows counterparts' standards yet, and there is the need for a dongle to plug in multiple devices to be able to drag and drop files from external storage.
Touch screen & Apple Pencil
Outside of portability, the touch screen is the iPad's biggest advantage. For many users, touch screens feel more enjoyable and natural than clicking. It's the same reason your first smartphone felt so liberating after years of number pads and that weird little nub thing BlackBerry had.
Naturally, keyboards, trackpads, and mice are still fair game. Apple's options are, as you'd expect, expensive, but there are plenty of third-party options out there that will work with the iPad Pro. In fact, any Bluetooth alternative will work, turning your tablet into a portable workstation.
Then there's the Apple Pencil, which arguably takes on new importance with the iPad Pro with M2. That's thanks to a new feature called Hover, which can highlight elements in the UI of apps or iPadOS before your Apple Pencil touches the screen – you just hold it close and see what it'll do.
For many, it's a curio that may offer a glimpse at what's to come with the Apple Vision Pro headset. For an editor dealing with tiny details and the finest of margins, it allows a more surgical precision to edits.
What about the iPad Air?
As discussed in our iPad Pro M2 review, the biggest gripe with the iPad Pro is that it's difficult to push over the iPad Air M1 – which, coincidentally, is the tablet we recommended in our iPad buying guide.
Then, why not grab an iPad Air for your photo edits? You most certainly can thanks to the power of the M1 chip, but you'll lose the bigger display and the quality of it (the iPad Air lacks the larger iPad Pro's mini-LED display). It's also not as bright, which may be an issue if you're shooting late at night or early in the morning.
There's a big difference in file transfer speeds, too, with the iPad Pro moving those huge DSLR images more quickly thanks to its Thunderbolt 4 USB-C port.
Is the iPad Pro worth it for photo editing?
So how does the iPad pro stack up as a photo editing machine? Surprisingly well is the answer, with the caveat that it's for a specific use case - people who value portability but don't want to sacrifice on power or display quality.
The iPad Pro is half the weight of even the lightest MacBook and that counts for a lot when you're already lugging heavy camera equipment out with you. And while you'll still likely do the heavy photo editing when you get back home, being able to view, edit, and post your photos while you're out in the wild or away on holiday is a massive benefit.
If you're just editing your photos at home, then we'd say stick to a laptop, or even a desktop PC, but if you're looking to photo edit on the go then we think the iPad Pro is a really compelling option.
Stay up to date on the latest science news by signing up for our Essentials newsletter.
Lloyd Coombes freelance tech and fitness writer for Live Science. He's an expert in all things Apple as well as in computer and gaming tech, with previous works published on TopTenReviews, Space.com, Dexerto and TechRadar. You'll find him regularly testing the latest MacBook or iPhone, but he spends most of his time writing about video games as Editor in Chief at GGRecon.com. He also covers board games and virtual reality, just to round out the nerdy pursuits.