1st-ever close-up photo of Mars' moon Deimos reveals the Red Planet's violent past
A satellite from the United Arab Emirates revealed that Mars' moon Deimos is made of the same material as the Red Planet itself, hinting at an ancient collision.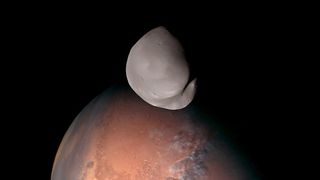 (Image credit: Emirates Mars Mission)
The United Arab Emirates' Martian orbiter Hope just provided a striking new view of Deimos, one of Mars' two small moons. According to findings presented at the European Geosciences Union meeting this week, the observations from a flyby on March 10 indicate that Deimos is made of the same materials as Mars itself — suggesting the moon formed at the same time as Mars, and isn't a captured asteroid, as some theories have proposed.
These observations revealed a never-before-seen perspective of Mars and Deimos.
"Mars was in the background — and that was just mind-blowing, honestly," mission leader Hessa Al Matroushi, of the Mohammed Bin Rashid Space Centre in Dubai, told Nature.com.
Humanity has been exploring Mars for decades, but our probes mostly stayed close to the Red Planet's surface. Deimos is tidally locked with Mars, meaning the same side always faces the planet, so probes near Mars see only one side of the small moon, too — that is, until Hope arrived on the scene.
Also known as the Emirates Mars Mission (EMM), Hope launched in mid-2020 and arrived at Mars in early 2021. EMM is the first interplanetary spacecraft from an Arab nation, and it mainly investigated changes in the Martian atmosphere. Once the probe completed that primary mission, the EMM team decided to use the remaining extra propellant to boost the spacecraft into a higher orbit above Deimos, allowing the scientists to image the far side of the Martian moon in detail for the first time.
Images from Hope's first Deimos flyby revealed the tiny moon — which is only 7.7 miles (12.4 kilometers) wide, or about half the length of Manhattan, New York — in multiple wavelengths from ultraviolet to infrared. Deimos appeared relatively similar at various wavelengths, indicating that it consists of Mars-like material instead of the usual carbon-rich stuff of asteroids.
"If there were carbon or organics, we would see spikes in specific wavelengths," Al Matroushi added.
This is surprising, as scientists often considered Deimos a captured asteroid. Instead, it seems like a chunk of Mars itself, perhaps broken off in a long-ago collision. Earth's moon is thought to have formed from a similar collision, billions of years ago — perhaps giving our planet one more thing in common with its rocky red neighbor.
Stay up to date on the latest science news by signing up for our Essentials newsletter.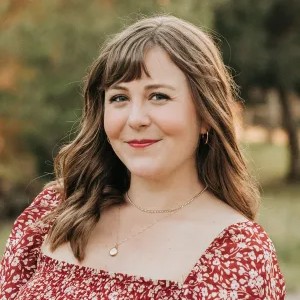 Briley Lewis (she/her) is a freelance science writer and Ph.D. Candidate/NSF Fellow at the University of California, Los Angeles studying Astronomy & Astrophysics. Follow her on Twitter @briles_34 or visit her website www.briley-lewis.com.
Ha! Perfect pic of how 'moon' can be used as both a noun and a verb!

Reply