Ukraine invasion's impacts on the world of science: Live updates
The Russian invasion of Ukraine is being felt far and wide, from risks to nuclear power plants to impacts on science experiments to fear of a nuclear war.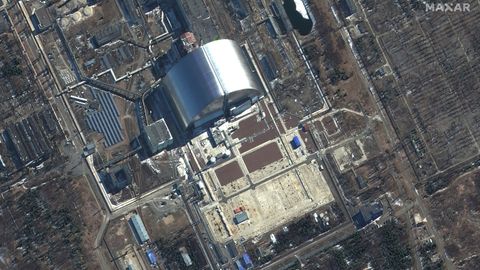 (Image: © Maxar Technologies/Getty Images)
Russia launched a war against Ukraine on Feb. 24, 2022, targeting more than a dozen cities and the Chernobyl nuclear site within the first day of the invasion.
The ongoing war not only threatens Ukraine's continued existence as an independent country, but the conflict will likely have wide-reaching ramifications for science-related industries and organizations the world over. In addition, the potential for nuclear war and damage to Ukraine's various nuclear sites pose a threat to public health and the environment, on a global scale.
As the war continues, Live Science will be sharing live updates on how the conflict is impacting various scientific fields, the energy sector and the space industry. We'll also be covering developments related to nuclear weapons and power plants, as well as relevant health news, such as the state of medical supply chains in Ukraine and updates on how the COVID-19 pandemic is unfolding in the region.
Stay up to date on the latest science news by signing up for our Essentials newsletter.
Thank you for signing up to Live Science. You will receive a verification email shortly.
There was a problem. Please refresh the page and try again.