Best ultrasonic jewelry cleaners
Using harsh chemicals to clean your jewelry, watches, and glasses can lead to damage. These ultrasonic cleaners are a much better way to keep things clean.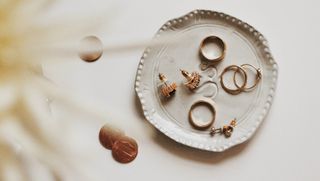 (Image credit: Unsplash / Tessa Wilson)
Ultrasonic cleaners can be used to clean more than just jewelry. They are helpful for cleaning your reading glasses, your watch, and even small objects such as figurines. The lack of harsh chemicals makes an ultrasonic cleaner perfect to keep your metal and glassware safe from damage.

Ultrasonic cleaners are also extremely helpful for cleaning resin-made 3D prints before curing, though extra precautions need to be taken when using different liquids inside them.

We have blasted our jewelry with as many different ultrasonic waves as possible to give you the best cleaners you can buy.
Best overall
Great for everyday use
The Magnasonic is the perfect balance between cost and usability. The 600-milliliter cleaning area is big enough for most applications at a small scale—cleaning a few rings and a watch for example—but may feel a little small if you have a lot of things to clean.

With a few easy-to-use presets, the Magnasonic can be used by practically anybody, of any age, and is worth having in your house for the occasion where you might need it. It can even clean your dentures!
Best metal
Small but professional
At just 1.3 liters, the VEVOR ultrasonic cleaner is pretty roomy. It is metal all the way through, so it can withstand chemicals other than water. Not that you should use other chemicals, but with 3D printing, you may want to.

This ultrasonic cleaner has plenty of different settings, too—you can adjust the heat and time—so you can make sure it's exactly what you need when you need it.
Best design
Technology doesn't have to be ugly
While all the other ultrasonic cleaners you might see are a little industrial, this sleek black number wouldn't look out of place in any home.

It's long, too, at just around 7 inches, so it has plenty of room to house your jewelry without having to get your necklaces in a bundle.
The power of soundwaves
If you are looking for a great in-home ultrasonic cleaner, then the Magnasonic professional ultrasonic jewelry cleaner is likely perfect for you. Whether it's for cleaning your jewelry or items like dentures or glasses, the Magnasonic is pretty much spot on.
Why trust us?
At Live Science we recommend the best products to enhance your life. As expert curators, we handpick products based on quality and usefulness to positively impact your day-to-day, from cart to doorstep. We take our responsibility seriously — testing products, reading reviews, and sourcing knowledgeable outlets to ensure our selections are worthy of your time and money. We deliver detailed product overviews, balancing objective information with subjective opinions, so making the best choice for your home and lifestyle is as easy as possible.
Stay up to date on the latest science news by signing up for our Essentials newsletter.