NASA's experimental X-59 supersonic jet could be built by the end of 2020
It'll test ways to shush sonic booms.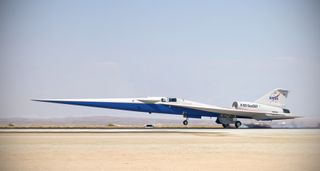 (Image credit: Lockheed Martin)
NASA's new experimental supersonic X-plane is on a fast track to flying.
The plane, officially named X-59 QueSST in 2018 and often referred to as just X-59, was greenlit for final assembly during a critical design review in 2019. With this plane, NASA aims to create an ultraquiet craft that can travel over land faster than the speed of sound.
In 2020, Lockheed Martin, which NASA commissioned to build the plane, plans to mate the aircraft and completely finish the building process by the end of the year, a company representative told Space.com. "It's moving very fast on the shop floor in terms of manufacturing and production," the company said.
Related: Supersonic! The 10 Fastest Military Airplanes
This follows a year of serious progress as the plane's wings have been assembled at Lockheed Martin Skunk Works in Palmdale, California, and innovative systems for the craft continue to develop.
After the "mating of the aircraft and final assembly," the representative said, "we'll take the airframe to do some proof testing and get some other parts installed, do some test runs of the systems, and then roll it out."
Once the plane is all together, it will take its first flight in 2021, the representative added.
But will a plane that travels at supersonic speeds, or faster than the speed of sound, really be quiet enough to avoid causing a major disturbance? According to the representative, the team behind the plane is confident that the craft will be ultrafast and ultraquiet.
"We're very confident. All kinds of modeling simulations and predictions align, so we believe, based on these models and simulations we've run, that it will achieve that low-boom sound once it reaches supersonic speeds."
To ensure that this is the case and that the plane not only works correctly and reaches these incredible speeds, but also remains quiet enough to not be a public nuisance, additional testing will follow the completion of the plane in 2020.
As the Lockheed Martin representative explained, building the plane is really only Phase 1 of the entire project. With Phase 2, further testing, certifications and acoustic (or sound) validation will occur. After that, in the third phase, community-response testing will ensure that, with a low-boom (a quiet sonic boom) demonstration, will validate how people respond to the craft flying overhead.
According to a NASA statement, in the community response testing, the team will "fly the X-plane over select U.S. communities to gather data on human responses to the low-boom flights and deliver that dataset to U.S. and international regulators."
Follow Chelsea Gohd on Twitter @chelsea_gohd. Follow us on Twitter @Spacedotcom and on Facebook.

Stay up to date on the latest science news by signing up for our Essentials newsletter.
Chelsea Gohd joined Space.com as an intern in the summer of 2018 and returned as a Staff Writer in 2019. After receiving a B.S. in Public Health, she worked as a science communicator at the American Museum of Natural History. Chelsea has written for publications including Scientific American, Discover Magazine Blog, Astronomy Magazine, Live Science, All That is Interesting, AMNH Microbe Mondays blog, The Daily Targum and Roaring Earth. When not writing, reading or following the latest space and science discoveries, Chelsea is writing music, singing, playing guitar and performing with her band Foxanne (@foxannemusic). You can follow her on Twitter @chelsea_gohd.
Nice airplane the X-59: it looks a bit having some drawbacks: wing and engine position remind HP.115, built to test the low speed features of Concorde wing, which finally had an ogival leading edge planform; the Saab Draken having a similar, but not identical, double delta planform, a bit in the line of Space Shuttle, had poor stall features, worse than with a single leading edge angle of swept, they say.
The main difference may be in the canard foreplane the Handley-Page HP.115 had not.
China published several documents about delta canards with delta wing planform.
Fuselage looks very long, as in X-3 Stiletto, perhaps the momentum, turning inertia issues of the X-3 long fuselage may reappear. (X-3 article Wikipedia)
Is it necessary to remake HP.115 airplane to obtain similar data?
Purchase info in the UK!
They are always in need of money, same as US with their rampant debt; if data trade is made with Chinese, it could be good for all.
But it is not my money, nor I am putting my life at risk on board, I failed in obtaining the 'C' class glider license...
Blessings +

Reply