Astronaut Spots Eye of Hurricane Dorian from Space Station
Category 5 storm looks fierce in photos from space.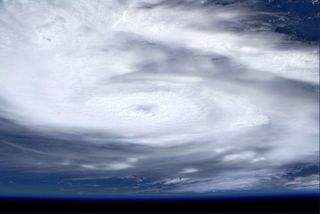 (Image credit: Luca Parmitano/ESA <a href=https://twitter.com/astro_luca/status/1168214959303663617>via Twitter</a>)
Hurricane Dorian is terrifying even from the International Space Station, where European Space Agency astronaut Luca Parmitano captured photographs of the Category 5 storm.
"Zoom into tropical storm Dorian," Parmitano wrote on Twitter Sunday (Sept. 1) while sharing the photos from the station, where he serves as part of the Expedition 60 crew.
The hurricane is currently stalled over Grand Bahama Island in the northern Bahamas, where meteorologists predict it will remain for much of today (Sept. 2). The National Oceanic and Atmospheric Administration's (NOAA) National Hurricane Center (NHC) is currently forecasting that the storm will hug the east coast of the U.S.
If this prediction proves correct, Hurricane Dorian will travel northward along Florida's coast through Wednesday (Sept. 4). Meteorologists at NHC are currently forecasting the storm to reach Georgia early Thursday (Sept. 5) and then continue up the Atlantic coast throughout the week.
Video: Here's the Latest Video of Hurricane Dorian from Space
Watch: See Hurricane Dorian in Action in these Gifs from Space
Right now, NHC is calling Dorian "extremely dangerous" on account of both the powerful winds that have classified it as a Category 5 storm and the heavy rainfall and storm surges the hurricane is causing.
Grand Bahama Island could see storm surges between 18 and 23 feet (5.5 to 7 meters) higher than typical tide levels, according to the NHC forecast.
Related: How NASA and NOAA Track Hurricane Dorian from Space
Current rainfall predictions suggest Dorian could drop 2 to 4 inches (5 to 10 centimeters) of rain along the Florida coast and 5 to 10 inches (12.5 to 25 cm) along the Carolinas.
If you live along Hurricane Dorian's path, visit the NHC and your local National Weather Service office for the latest forecasts.
Email Meghan Bartels at mbartels@space.com or follow her @meghanbartels. Follow us on Twitter @Spacedotcom and on Facebook.
Stay up to date on the latest science news by signing up for our Essentials newsletter.
Meghan is a senior writer at Space.com and has more than five years' experience as a science journalist based in New York City. She joined Space.com in July 2018, with previous writing published in outlets including Newsweek and Audubon. Meghan earned an MA in science journalism from New York University and a BA in classics from Georgetown University, and in her free time she enjoys reading and visiting museums. Follow her on Twitter at @meghanbartels.