I tried a social basketball game in virtual reality and it's a game changer for VR fitness
The Gym Class VR basketball simulator is a place for shooting hoops, dunking and creating memories with friends.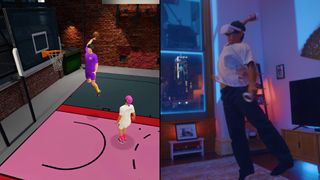 (Image credit: IRL Studios Inc.)
I gazed around the sunlit basketball court while Paul Katsen, the Gym Class: Basketball VR chief product officer and co-founder of IRL Studios Inc., welcomed me to the game. The sun was rising, or it might have been setting. The orange glow painted the court with a relaxing ambience. I heard Paul's voice get louder as he approached, so I faced him, realizing in a flash that the focus of my eyes wasn't private.
My avatar was gawping just as I was. In front of me Paul's avatar gesticulated as it spoke, moving as the real man did all the way in Texas. He then manifested a ball, bounced it a few times, and threw it to me. I caught it, feeling the vibration of the impact.
Having only played single player party VR titles like Beat Saber and Pistol Whip, multiplayer VR, in my naïve mind, was the stuff of Ready Player One. Yet after ten minutes of playing Gym Class: Basketball VR I thought those clichéd words — "The future is now."
I've previously written about whether VR fitness can replace the gym for Live Science. In that article, I said that while VR fitness games are fun, you'll still need to exercise in the real world if you want the social side of fitness. Not anymore. After strapping on my Meta Quest 2 and spending an hour shooting hoops and dunking — an act that requires squatting — I was pretty tired, and the whole time I'd been chatting to other people.
Most surprising of all was how much of a genuine human experience it felt. The best VR headsets are efficient communication tools. We often misread each other when instant messaging, and sometimes over voice chat. VR introduces the dimension of body language, providing the social cues often missing from other gaming chats.
While it isn't exact, and we don't have facial cues just yet — I don't think they're too far in the future — playing basketball with Paul and company felt like I was with them. I didn't leave wondering what these people were like in real life, because the time we'd spent in the virtual court felt as real as meeting in a caged basketball court in New York.
Paul got the urge to move into VR after a meeting with an old high school friend over lockdown. He and his friend usually talked on the phone, reminiscing about old times, but this time they met up in a VR world to play table tennis. Paul was amazed by this. They were thousands of miles apart, and yet there they were playing table tennis together. Rather than reminiscing about past memories like a typical phone or video call catchup, they created new ones.
This lightbulb moment led Paul to basketball. Basketball courts are social spheres, not just competitive sports grounds. Shooting hoops is synonymous with hanging out — one doesn't have to play a strict game, but converse and occasionally throw or bounce. And that's what we did in the virtual court. Dribbling, aiming, and dunking were things to do with our hands as we talked. Basketball is a great game for VR, too, because of its physical nature. Your avatar renders your body language as you dribble, pivot, and jump shot or dunk. If you want to add a little flourish, everyone will see.
While the VR basketball experience was new to me, there was something warmly familiar, too. And it's something I've been missing for over a decade. Unless you're into online gaming, chances are that the only virtual space you inhabit is social media. These carefully curated profiles and meticulously edited posts aren't the same as real human connections, and it's very easy to forget this. Playing Gym Class: Basketball VR, I remembered the time I used to spend online in the mid-2000s, strolling the wilderness in RuneScape while having spontaneous talks on MSN Messenger — it felt like hanging out with friends.
We used to log into these sites, socialize for a while, then log out. We never checked RuneScape in the middle of a meal with loved ones because there was a time and a place for it. Building real connections on social media can be hard, and yet we remain logged in for eternity. The scroll is eternal and there's no definitive end, like there is, say, with a game of basketball — real or virtual.
Gym Class: Basketball VR reminded me that the online sphere can be a place for making memories — memories that aren't dopamine fishing in a sea of loneliness and narcissism. In the game, you can personalize your own court with shops and designs. You can invite people over, go to hang out in their courts, then play a serious game or just talk and pass and shoot. It's exercise, it's catching up with friends, and it's meeting new people in an organic environment. It's malleable. You might be familiar with other great social VR apps such as Wreck Room or Gorilla Tag, but I recommend giving this one a try. Even if you're not into basketball, it has an irresistible charm.
Taking off the headset and returning to my apartment was like waking from a dream, but the memories didn't start to vanish. I felt good, energized. If you're feeling fatigued by what you see online at the moment, fear not. There is still genuine online connection to be had outside of social media and core online gaming. If you have a VR set, then give this a go next time you want to catch up with a friend.
Gym Class VR is available now on Meta Quest 2, Meta Quest Pro, and the original Meta Quest via the Oculus Store. The game is free, but there are in-app purchases.
Stay up to date on the latest science news by signing up for our Essentials newsletter.
Ben is a writer based in sunny Bangor, North Wales, where he completed his bachelor's and master's degrees in English and creative writing, respectively. He has written about VR, gaming, and tech for TechRadar, The Gamer, The Loadout, and GAMINGbible. When not writing or exercising, he should be trudging through his game and book backlog. But he's probably asleep.