Timothy Ray Brown, 1st person cured of HIV, dies after cancer relapse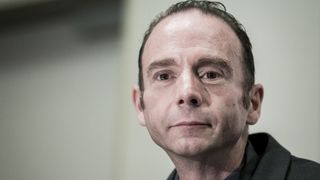 (Image credit: T.J. Kirkpatrick/Getty Images)
Timothy Ray Brown, famous for being the first person to be cured of HIV, has died from cancer at age 54.
Known as the "Berlin patient," Brown was diagnosed with both HIV and acute myeloid leukemia, a cancer of the white blood cells, while living in Berlin more than a decade ago, according to Reuters. After his cancer diagnosis in 2006, Brown received radiation therapy and a bone marrow transplant in 2007; the goal of the treatment was to kill the existing cancer in his body and jumpstart production of healthy white blood cells, which are generated in the bone marrow.
But the physician who led the procedure, Dr. Gero Huetter, aimed to treat both Brown's leukemia and his HIV using the same operation, according to The Associated Press.
Related: 7 revolutionary Nobel Prizes in medicine
Huetter sought out a bone marrow donor with a rare genetic mutation that provides natural resistance against HIV infection. The virus normally targets white blood cells called CD4-T cells, which it infiltrates through a specific receptor on the cells' surfaces; people with the genetic mutation have an altered version of this receptor, so the virus can't slip inside, Live Science previously reported.
After his initial bone marrow transplant in 2007, Brown was cleared of HIV and remained free of the virus until his death, The Associated Press reported. He required a second transplant in 2008 to eliminate his leukemia, but after years in remission, the cancer returned last year and spread to his spine and brain, Reuters reported.
"I'm heartbroken that my hero is now gone. Tim was truly the sweetest person in the world," Brown's partner Tim Hoeffgen wrote in a Facebook post, according to Reuters.
"We owe Timothy and his doctor, Gero Huetter, a great deal of gratitude for opening the door for scientists to explore the concept that a cure for HIV is possible," Adeeba Kamarulzaman, president of the International AIDS Society, told Reuters.
Originally published on Live Science.
Stay up to date on the latest science news by signing up for our Essentials newsletter.
Nicoletta Lanese is the health channel editor at Live Science and was previously a news editor and staff writer at the site. She holds a graduate certificate in science communication from UC Santa Cruz and degrees in neuroscience and dance from the University of Florida. Her work has appeared in The Scientist, Science News, the Mercury News, Mongabay and Stanford Medicine Magazine, among other outlets. Based in NYC, she also remains heavily involved in dance and performs in local choreographers' work.
The is a very sad story of someone who went to great lengths to survive, but in the end could not fight off what must have been an aggressive leukemia cell line.

It is also a remarkable story regarding the use of CD4-deficient T-cells to cure him of the HIV infection. While this is not a practical cure for all those infected, it may represent a starting point. It seems that the ability to modify people's genes is growing substantially.

Now one has to wonder if (at some point) they could take an HIV infected patient's T-cells and reprogram them to operate without the CD-4 receptor. This would circumvent the need for irradiation to wipe out all the original T-cells which allows HIV to replicate, and still provide for an intact immune system to prevent the development of AIDS.

We should all hope that Timothy Ray Brown and his experience with medical science and technology will help us find new ways to eliminate HIV, and perhaps other viruses as well. We certainly could use the help!

Reply