Cape Cod is one of the world's largest hotspots of great white sharks, study finds
For the first time, scientists have estimated the abundance of great white sharks off the coast of Cape Cod.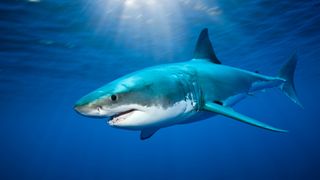 (Image credit: Photo by Reinhard Dirscherl/ullstein bild via Getty Images)
Cape Cod in Massachusetts is home to one of the world's biggest hotspots of great white sharks, new research finds. Between 2015 to 2018, an estimated 800 great white sharks visited the area, according to a study published July 27 in the journal Marine Ecology Progress Series.
This is the first estimate of abundance for great white sharks (Carcharodon carcharias) in the western North Atlantic Ocean, the researchers said. The finding "suggests that Cape Cod is among the larger aggregation sites worldwide," the authors wrote.
So why are these apex predators gathering off Cape Cod's coasts? Because that's where their favorite meal resides, explained study co-author Megan Winton.
"Over the course of the past 10 years, white sharks have come back to Cape Cod to feed on the recovering seal population," Winton, a marine researcher and member of the nonprofit organization Atlantic White Shark Conservancy, told The Inertia.
Related: Great white sharks have almost no interest in eating humans, study confirms
Humans hunted gray and harbor seals to the brink of extinction in the 1960s, but their populations have dramatically increased since 1972 when the U.S. Marine Mammal Protection Act was passed, which makes it illegal to catch or kill marine mammals without a permit. Now, there are roughly 30,000 to 50,000 gray and harbor seals in southeastern Massachusetts, according to a 2016 estimate. As a result, the number of great white sharks in this area has also been steadily rising, the new study found.
To track their numbers, the researchers identified individual sharks by analyzing tagging data and recording their unique coloration patterns using underwater GoPro cameras. After more than 130 research trips over three years, they identified 393 individual great white sharks from 2015 to 2018.
However, the researchers also wanted to account for the sharks' migratory behavior, so they developed a model to calculate how many sharks were moving in and out of the area, and estimated that roughly 800 sharks aggregated in this region over the three-year period.
In the 1980s, great white shark populations in the Atlantic Ocean were just 27% of what they were in 1961. But they have made a widespread comeback along the western North Atlantic coast in recent years, according to the National Oceanic and Atmospheric Administration. This study confirms that trend in Cape Cod.
"What I find most amazing is the speed at which the population recovered," Chris Lowe, director of the Shark Lab at California State University, Long Beach, told Outside.
Most of the great white sharks visited Cape Cod during late summer and early fall, when ocean temperatures there are at their highest, before migrating out of the area in early winter.
"Their movements are very dynamic, they trickle in and out," study co-author Greg Skomal, recreational fisheries program manager at the Massachusetts Division of Marine Fisheries, told the Boston Herald. "Some white sharks simply stop by on their way north while others spend more time along the Cape, likely because they have success feeding on seals."
Though Cape Cod is a hotspot for great white sharks, there has not been a reported attack on humans since 2018, and the risk posed to recreational swimmers remains low, the study's authors wrote.
"They are very cautious predators," Winton told New Hampshire Public Radio Station (NHPR). "But the increased presence and number of white sharks off the Cape really drives home the need for ongoing research."
Stay up to date on the latest science news by signing up for our Essentials newsletter.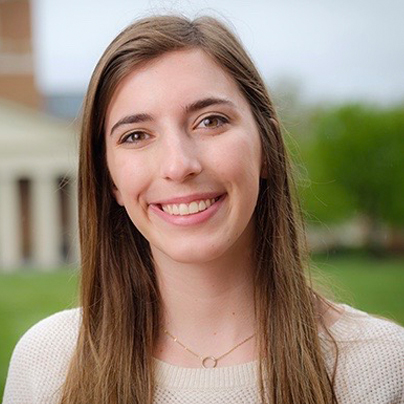 Kiley Price is a Live Science staff writer based in New York City. Her work has appeared in National Geographic, Slate, Mongabay and more. She holds a bachelor's degree from Wake Forest University, where she studied biology and journalism, and is pursuing a master's degree at New York University's Science, Health and Environmental Reporting Program.