Long Live The Klotho Mice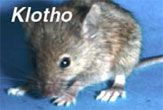 Klotho, a gene in both mice and men, has a definite effect on aging, according to Dr. Makoto Kuro-o. Stimulating the Klotho gene seems to delay many of the effects of old age, like weakening of bones, clogging of the arteries and loss of muscle fitness.
For their current study, Kuro-o and colleagues created a strain of mice in which the Klotho gene is more active than in normal mice. The mice lived between 19% and 31% longer than normal mice.
Dr. Kuro-o writes;
An interesting note is that it appears that the Klotho-enhanced mice who are more long-lived seem to have fewer offspring as a side effect. Also, the effect of Klotho on insulin could create a problem because it may extend life at the expense of making people diabetic.
Mice with the Klotho gene are not the first to help human beings achieve longer life; read about Yoda, the world's oldest mouse and the Methuselah Mouse 'M' Prize.
Science fiction authors have been interested in technologies that might lengthen human life; almost invariably, each of these methods also has a particular flaw. Kurt Vonnegut wrote about anti-gerasone in his well-known short story Tomorrow and Tomorrow and Tomorrow. Anti-gerasone's flaw was that it worked too well - neither material goods nore inheritance laws could keep up.
In A World Out Of Time, Larry Niven writes about young-forever, which puts off death almost forever. Unfortunately, it works only with children, who then never go through puberty.
The desire to live forever, and the belief that it will never quite work out, of course predates science fiction authors. The ancient Greeks wrote about the goddess Eos, who fell in live with a mortal man, Tithonus; she asked Zeus to grant him immortality. Zeus does so, but Eos forgets to ask for eternal youth; Tithonus lives on and on, eventually withering into a shrill grasshopper.
And, as it happens, the name "Klotho" is also derived from the Greek myths about the three Fates. Klotho combs and spun the thread one's life, Atropos wove the thread into the fabric of one's actions, and Lachesis snipped the thread at death.
Find out more about Dr. Makoto Kuro-O and Anti-aging protein extends mouse lifespan.
(This Science Fiction in the News story used with permission from Technovelgy.com - where science meets fiction.)
Stay up to date on the latest science news by signing up for our Essentials newsletter.
Bill Christensen catalogues the inventions, technology and ideas of science fiction writers at his website, Technovelgy. He is a contributor to Live Science.