Success Stories: Species on the Rebound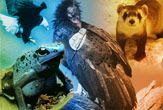 As their numbers plummet, jaguars, polar bears, and leatherback sea turtles might have hope of survival in light of the success stories of some of their fellow creatures.
Human activity threatens 99 percent of all species, according to the World Conservation Union (IUCN). Plants and animals are going extinct at a rate 1,000 to 10,000 times higher than what would occur naturally, some researchers say. One recent study concluded that a quarter of the world's plant and vertebrate animal species would face extinction by 2050.
However, human conservation efforts are working to boost specific populations [Top 10 Success Stories].
The IUCN keeps watch over the world's biodiversity with its publication of the Red List every two years, meant to keep the public and policy makers aware of threatened plant and animal species.
In the United States, the Endangered Species Act works to protect plants and animals from becoming extinct. On top of federal laws, individual states offer added protection and conservation mandates.
As our national bird, the bald eagle earned a prime spot on the Endangered Species List in 1973. The population has bounced back after the government's ban of DDT, designation of protected breeding grounds, and establishment of captive breeding programs.
Florida's Fish and Wildlife Conservation Commission recently removed the bald eagle from its list of threatened species in the sunshine state.
As well, the U.S. Fish and Wildlife Service plans to remove the bald eagle from the federal Endangered Species List.
Hundreds of species in North America have bounced back from precarious populations, thanks at least in part to the Endangered Species Act, according to the Center for Biological Diversity.
Yellowstone National Park has been a haven for wild bison, where a population that has existed since prehistoric times now thrives.
Since all California condors left in the wild were taken into captivity in 1987, the birds have fared well, both in captivity and back in the wild.
Arizona Game and Fish Department biologists named 2005 the "best year yet" for black-footed ferrets.
Listed as an endangered species in 1967, the American alligator has since rebounded, but remains protected against hunting because of its uncanny resemblance to the endangered American crocodile.
Grizzly bears roaming around Yellowstone might soon be removed from the Endangered Species List.
It's not all roses for those that make the list. Scientists' best intentions to study endangered pupfish near Death Valley just made the situation worse, unintentionally killing one-third of the remaining population last summer.
Image Gallery: Endangered and Threatened Wildlife
Stay up to date on the latest science news by signing up for our Essentials newsletter.
Corey Binns lives in Northern California and writes about science, health, parenting, and social change. In addition to writing for Live Science, she's contributed to publications including Popular Science, TODAY.com, Scholastic, and the Stanford Social Innovation Review as well as others. She's also produced stories for NPR's Science Friday and Sundance Channel. She studied biology at Brown University and earned a Master's degree in science journalism from NYU. The Association of Health Care Journalists named her a Centers for Disease Control and Prevention Health Journalism Fellow in 2009. She has chased tornadoes and lived to tell the tale.