Underground City Envisioned in Nevada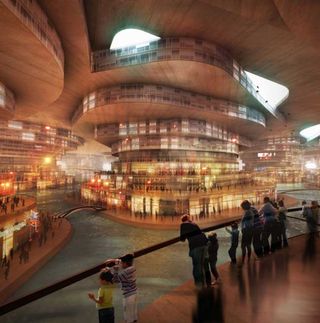 (Image credit: Andrew Kudless (Design), Nenad Katic (Visualization), Tan Nguyen, Pia-Jacqlyn Malinis, Jafe Meltesen-Lee, Benjamin Barragan (Model), Matsys Designs)
Sietch Nevada is a fascinating concept exhibited in Innovative Technologies and Climates at the University of Toronto. Fans of the science fiction novel Dune will immediately recognize this proposal - to build semi-subterranean terraced geometries in the Nevada desert.
"In Frank Herbert's famous 1965 novel Dune, he describes a planet that has undergone nearly complete desertification. Dune has been called the "first planetary ecology novel" and forecasts a dystopian world without water. The few remaining inhabitants have secluded themselves from their harsh environment in what could be called subterranean oasises. Far from idyllic, these havens, known as sietch, are essentially underground water storage banks. Water is wealth in this alternate reality. It is preciously conserved, rationed with strict authority, and secretly hidden and protected," according to the Sietch Nevada project description.
Water shortages will affect many areas of the United States and the world, possibly leading to "water wars" between states and countries if global temperatures continue to rise throughout the next century, as predicted in reports issued by the Intergovernmental Panel on Climate Change.
According to a recent study, over the coming century the Southwest will essentially transition into a state of "perpetual drought" due to the effects of global warming. This prediction leads to the questions of whether the worsening arid conditions of the Southwest should be called a drought or whether the regional climate is changing.
"Sietch Nevada projects waterbanking as the fundamental factor in future urban infrastructure in the American Southwest. Sietch Nevada is an urban prototype that makes the storage, use, and collection of water essential to the form and performance of urban life. Inverting the stereotypical Southwest urban patterns of dispersed programs open to the sky, the Sietch is a dense, underground community. A network of storage canals is covered with undulating residential and commercial structures."
These underground storage canals may replace the rivers losing water due to climate change in the Western United States.
I'm also fascinated by the warning in the final words describing the Sietch Nevada project: "Sietch [Nevada] is also a bunker-like fortress preparing for the inevitable wars over water in the region."
After all, the word "sietch" itself is defined thusly by Herbert:
'Fremen: 'Place of assembly in time of danger.' Because the Fremen lived so long in peril, the term came by general usage to designate any cave warren inhabited by one of their tribal communities.'
The Sietch Nevada project was created by Andrew Kudless (Design), Nenad Katic (Visualization), Tan Nguyen, Pia-Jacqlyn Malinis, Jafe Meltesen-Lee, Ben (Model).
This Science Fiction in the News story used with permission of Technovelgy.com.
Stay up to date on the latest science news by signing up for our Essentials newsletter.
Bill Christensen catalogues the inventions, technology and ideas of science fiction writers at his website, Technovelgy. He is a contributor to Live Science.