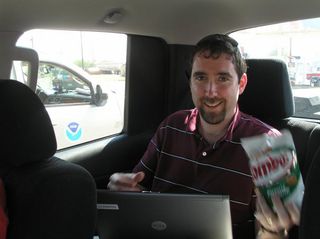 (Image credit: Ian Giammanco, Texas Tech University)
Editor's Note: ScienceLives is an occasional series that puts scientists under the microscope to find out what makes them tick. The series is a cooperation between the National Science Foundation and LiveScience.
Name: Christopher Weiss Age: 34 Institution: Texas Tech University Field of Study: Atmospheric Science
Christopher Weiss leads a Texas Tech contingent in this year's massive VORTEX2 tornado study. VORTEX2 is the second iteration of the Verification of the Origins of Rotation in Tornadoes project funded by NSF and NOAA and involves more than 50 scientists and 40 research vehicles, including 10 mobile radars. Researchers have been swarming tornadoes all season, and are gaining unprecedented insight into these phenomena. The Texas Tech University research team is called Project MOBILE (Multiple Observations of Boundaries In the Local storm Environment) and it centers around 24 Stick-Net sensor arrays that capture data about tornadoes as they happen. Weiss's student, Tanya Brown, wrote a Behind the Scenes feature about the work. Weiss answers the ScienceLives 10 Questions below.
What inspired you to choose this field of study? Meteorology started out as a hobby of mine as a child. Spending many summers in the farmlands of southern Illinois, I had plenty of time to observe and try to better understand the weather growing up. It was not until high school that I realized it was possible to have a career studying the same atmospheric phenomena that had intrigued my whole life.
What is the best piece of advice you ever received? The best piece of advice I ever received was from my father, who said that you should strive for a job that you will look forward to when you wake up every morning.
What was your first scientific experiment as a child? In middle school, I carried out an experiment studying the sensitivity of plant growth to light in specific areas of the visible spectrum. Filters were applied to the light over each of a series of pots and it was found that green light produced the weakest plant growth, which we can understand considering the spectral reflectance curve of vegetation.
What is your favorite thing about being a scientist or researcher? I enjoy the freedom to research any topic that intrigues me. Often I will be reading an article, watching a documentary, etc., and will come up new ideas to pursue. There is no set method that must be employed for every research project either — you are free to use your creativity to properly address the problem at hand.
What is the most important characteristic a scientist must demonstrate in order to be an effective scientist? Patience. There are valleys that come with the peaks in science. You have to be willing to take a step back and start over when speed bumps are encountered. Often, I will put a seemingly dead project away for a couple weeks, which helps me pursue a fresh angle later.
What are the societal benefits of your research? Tornado prediction has improved substantially over the past few decades, but we still have a long way to go in improving warning lead time for the public. With these earlier warnings, it is much more likely that those in the path, especially those outdoors, can seek adequate shelter from the tornado.
Who has had the most influence on your thinking as a researcher? My graduate thesis advisor certainly had a role in my thinking as a researcher. Also, I benefit from the continuing interaction with my colleagues at conferences, during projects, etc. Discussions of what research methods work for others can be invaluable. What about your field or being a scientist do you think would surprise people the most? Get this question on camera sometimes — tornado research does not have much in common with the movie "Twister" as people think. A fair number of our field research days are busts, either due to incorrect positioning, incorrect type of thunderstorm development, or the complete absence of thunderstorms period. Even the most successful of field seasons will yield a small number of quality data sets! It takes a lot of perseverance.
If you could only rescue one thing from your burning office or lab, what would it be? The appropriate answer would probably be my secretary but, assuming she could make it out on her own, I would probably go for my laptop!
What music do you play most often in your lab or car? 90s alternative is my favorite, but I listen to music in a variety of other genres (even country).
Stay up to date on the latest science news by signing up for our Essentials newsletter.