Satellite Images Used to Create Better Camouflage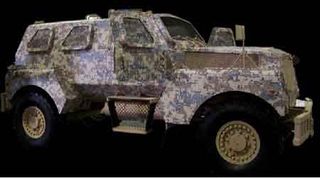 The art of concealing troops and their vehicles has come a long way from the first "camouflage" division formed in France in 1915. The French army called in artists to help prepare colors and designs; the Americans later used the same idea, calling on artists like Grant Wood, the painter of the "American Gothic."
Today, Photo-Veil from Military Wraps is a mesh material that uses images gathered from cameras on drones and satellites to camouflage military vehicles. The lightweight, customizable, foldable, portable and waterproof mesh material is also able to mask thermal and infrared output, making it ideal for blinds and ghillie suits. (At least until your invisibility cloak is ready.)
Users of the Photo-Veil technology report that it works very well; the material can be layered to change camouflage characteristics during missions.
This is a science-fictional idea any way you look at it. Depending on your reading, you might be reminded of the mimetic polycarbon suit from the 1984 novel Neuromancer by William Gibson:
Or, you might be thinking of chameleon cloth from the 1977 novel Dying of the Light by George R.R. Martin:
Depending on how fast it performs its tricks as a ghillie suit, you might even be thinking of the scramble suit from the 1977 classic novel A Scanner Darkly by Philip K. Dick:
See Military Wraps and Military Wraps Photo-Veil info (pdf) for more information.
(This Science Fiction in the News story used with permission of Technovelgy.com)
Stay up to date on the latest science news by signing up for our Essentials newsletter.
Bill Christensen catalogues the inventions, technology and ideas of science fiction writers at his website, Technovelgy. He is a contributor to Live Science.