New Breed of Green Car is Very Clever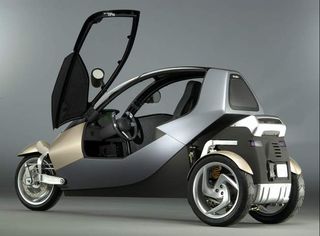 (Image credit: University of Bath)
Move over, MINI Cooper. Think thin, Volkswagen Beetle. Suck in your waistline, Smart Car.
Make room for the 3-foot-wide Clever car.
With the goal of building a slim, environmentally friendly city car, a team of European scientists developed the Clever, short for Compact Low Emission Vehicle for Urban Transport.
The petit three-wheeled prototype, made with funds from the European Union, took its maiden spin this week in the parking lot of the University of Bath in Britain.
"Making our vehicles smaller is a good solution to the relentless increase in traffic in our towns and cities," said mechanical engineer Jos Darling, a leader of the University of Bath research team. "The advent of micro cars was a first step, but with its maneuverability and narrowness, the Clever vehicle is the ultimate in the search for a small vehicle to get around cities like Bath and London."
The researchers hope the car will be consumer ready in five years. As of now there are no plans to market it in the United States.
The vehicle holds two passengers, tandem style. The skinny shape gives drivers an excellent chance of finding a parking space and navigating tight alleyways. A metal framework fully encloses the crash-tested car. For added safety, the Clever's roof is the same height as other cars on the road.
Balancing the three-wheeler around turns was the big challenge. The car hugs curbs like a motorcycle with its novel tilting chassis. But unlike motorcycles, on which a rider controls the lean, the Clever tilts automatically.
The auto is kind to the environment, too.
It runs on compressed natural gas, CNG, and gets the equivalent of 108 miles to the gallon. Service stations that sell CNG already exist across Europe and the parts of the United States.
The Clever's carbon dioxide emissions are a third of those emitted from conventional family cars. After a fill-up, it can travel 125 miles.
"It costs less to run, is quieter and is less polluting, and this will make it popular with environmentalists," Darling said.
Stay up to date on the latest science news by signing up for our Essentials newsletter.
Corey Binns lives in Northern California and writes about science, health, parenting, and social change. In addition to writing for Live Science, she's contributed to publications including Popular Science, TODAY.com, Scholastic, and the Stanford Social Innovation Review as well as others. She's also produced stories for NPR's Science Friday and Sundance Channel. She studied biology at Brown University and earned a Master's degree in science journalism from NYU. The Association of Health Care Journalists named her a Centers for Disease Control and Prevention Health Journalism Fellow in 2009. She has chased tornadoes and lived to tell the tale.