Are Anti-Vaxxers to Blame for Europe's Current Measles Outbreak?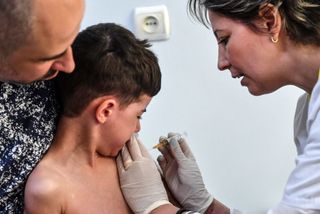 (Image credit: DANIEL MIHAILESCU/AFP/Getty Images)
A massive measles outbreak is currently spreading through Europe — the largest such outbreak the continent has ever seen, according to the World Health Organization.
In the first six months of 2018, more than 41,000 people got the measles. That's more than double the number of people who got sick from this same outbreak in all of 2017.
And yes, we're talking about the measles, an infectious disease that's been vaccine-preventable since 1963.
Of course, vaccines can't stop the spread of disease if people don't get their shots, and that appears to be what's happening in Europe. Indeed, the number of people who intentionally avoid getting vaccines (or avoid getting their children vaccinated) due to religious or personal beliefs has been on the rise in Europe. These individuals are also known as anti-vaxxers. (There will always be a small portion of the population who, due to medical reasons, cannot get vaccinated.) And the more people who should get the vaccine but fail to, the more likely it is that communities will fall below the necessary 95 percent vaccinated mark, the rate required to keep measles infections from spreading. [Just How Safe Are Vaccines? Here Are the Numbers]
So, are anti-vaxxers to blame for this outbreak's severity? And if so, how would we know?
At the very least, it's clear that this outbreak is due to under-vaccination in Europe, said Matt Ferrari, an epidemiologist at Penn State University. "What the source of that under-vaccination is, is a gnarlier question."
Outbreak epidemiology
When an outbreak starts, epidemiologists venture into hospitals and sort through medical records to learn more about the people who got sick in the event. Investigators want to know how old these patients are and whether they were vaccinated against the illness in question. These data tell epidemiologists about any strange trends concerning who is getting sick. The most recent measles, mumps and rubella report (published all together because the three vaccines are regularly administered as a trio) released by the European Centre for Disease Control and Prevention breaks infection rates down by age and vaccination status.
From August to September of 2018, the report said, 10 percent of measles cases in all of Europe occurred in people who couldn't remember when they were last vaccinated. That's expected in older adults, who are more often forgetful, Ferrari said, and according to the most recent report, the likelihood of a person with the measles not knowing their vaccine status increased with age. During the same period, another approximately 9 percent of measles cases were in kids who had received one dose of the vaccine, and an additional 5 percent of cases were in kids who got both doses of the vaccine.
This is expected too, Ferrari said: Vaccines don't always take, which is why kids should get both doses — which, even then, doesn't guarantee protection. (Though it does greatly reduce an individual's risk of getting sick.) [6 Flu Vaccine Myths]
The report also said that of all unvaccinated children who got the measles, 94 percent of were 1-year-old or younger. The MMR vaccine generally isn't given to kids until they turn 1, because infants keep immune responses from their mother up until about their first birthday, according to Ferrari. If they get vaccinated before their body has given that protection up, their immune system ignores the vaccine, Ferrari said. But because some kids lose that protection before one year is up, those are the ones most likely to get sick.
All of these statistics fall in line with what experts would expect about who will get sick: older adults who can't remember if they were vaccinated, kids who got only one dose of the vaccine and kids who were too young to get vaccinated.
One statistic, however, doesn't read like it should, Ferrari said. Of kids between the ages of 1 and 4 who got sick, 80 percent were unvaccinated, the report found. "You shouldn't find that many kids between 1 and 4 who are unvaccinated if you have a functioning vaccination program," Ferrari told Live Science.
And while it's true that vaccines can sometimes be faulty, that's rarely the cause of a widespread outbreak. When outbreaks from ineffective inoculations have happened before, they were localized, not continent-wide, said Catherine Moore, a clinical scientist with the Wales Specialist Virology Centre in Cardiff, Wales. "You wouldn't vaccinate an entire population with one batch" of a faulty vaccine, she said.
A continent-wide outbreak
Indeed, the geography of the outbreak also gives away the cause. Vaccine noncompliance tends to cluster, Ferrari said. "If you don't have access to health services, then your neighbor probably doesn't have access either," he said. The same goes for ideological beliefs; those who dodge vaccines are likely part of a community with others who do the same thing. [25 Medical Myths That Just Won't Go Away]
Of course, a community could have other reasons besides collective distrust for being under-vaccinated. Some people haven't been educated on the importance of vaccines, and others lack the health care access needed to receive a shot, according to both Moore and Ferrari. Indeed, all three of these influences converged in Romania, a country hit hard by this outbreak; in that nation, measles vaccination rates fell to 80 percent.
Though several European efforts are working to remove linguistic and logistical barriers to vaccinations, Moore said she's also spent years interacting with people who refuse the vaccine and parents who refuse the vaccine for their kids. She helped squash the 2013 Welsh measles outbreak, and "the group affected mostly were that generation that missed being immunized due to the Andrew Wakefield paper," Moore told Live Science in an email, referring to the fraudulent and thoroughly debunked publication that claimed to connect the measles vaccine to autism.
Academic journals have confirmed that communities elsewhere in Europe were hit by measles due to vaccine avoidance, too. And though that Welsh outbreak led to hundreds of children getting vaccinated, follow-ups with families who refused the shots revealed all kinds of personal and religious issues about vaccines.
The number of communities that owe their low vaccination rates to anti-vaxxers might not be known until the current outbreak ends, Moore said. But in locales already hit, researchers have started parsing out why people are under-vaccinated, while also implementing educational programs to change that status. Some experts say this problem could be solved by improving vaccine access in rural areas. Others say the solution might come from making the vaccine available for when anti-vaxxers change their minds.
In her own experience, Moore said, she's seen the children of vaccine avoiders come in for shots after they see their friends get sick.
Editor's note: This story was updated on Oct. 31 to clarify a statement from Matt Ferrari. Children should get both doses of the measles vaccine because sometimes the first dose doesn't take, not because the vaccine is faulty.
Originally published on Live Science.
Stay up to date on the latest science news by signing up for our Essentials newsletter.