Largest Ever Tornado Study Begins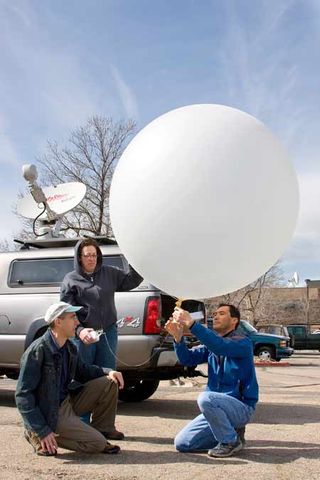 (Image credit: Carlye Calvin)
If the conditions are just right, any thunderstorm can spawn a tornado in a relative blink of an eye. A new project that kicks off this weekend aims to capture the mechanics of a storm giving birth to these destructive, swirling storms.
It's the largest-ever study of tornadoes. More than 100 researchers involved with the VORTEX2 (Verification of the Origins of Rotation in Tornadoes Experiment 2) project will deploy a flotilla of instruments across the Great Plains over the course of the study, which runs from May 1 to June 15.
The aim of the study is to chase down tornadoes and surround them with an unprecedented fleet of mobile radars and other cutting-edge tools in order to examine in detail how tornadoes form and the patterns of damage they cause.
"Tornadoes rank among the most destructive weather events on Earth, and it's imperative that we learn more about how they develop and why some are so powerful and long-lived," said David Dowell, principal investigator on the project and a scientist at the National Center for Atmospheric Research (NCAR) in Boulder, Colo. "We're hoping to improve the lead time and accuracy for tornado warnings. If we can understand these forces better, that could ultimately save lives."
Last spring during the first phase of VORTEX2, researchers made key observations of a tornado in southeast Wyoming that was rated EF2 on the Enhanced Fujita tornado damage scale that goes from 0 (minor damage) to 5 (a storm that will completely destroy a house). They also collected data on several powerful nontornadic storms. Such information will help researchers distinguish between thunderstorms that produce tornadoes and those that do not.
The longer study period this year (about two weeks) should increase the odds of tracking down tornadoes.
The first VORTEX project, conducted in 1994 and 1995, gathered critical data on supercells, the severe and long-lived thunderstorms that give birth to the most destructive and deadly tornadoes. VORTEX findings are credited with improving National Weather Service tornado warnings.
Building on that progress, VORTEX2 researchers are using an armada of enhanced mobile radars and other new weather-sensing tools to gather far more detail on the crucial zone within supercells where tornadoes develop. Rapidly changing contrasts in wind and temperature in this zone, which is only a few miles across, can spawn a tornado within minutes. However, this happens in only a small fraction of supercell storms, and standard observing networks and radars often fail to capture the atmospheric conditions that lead to a tornado.
To capitalize on the unusual mass of mobile instruments, researchers will also look for opportunities to collect data on other major weather events in the region. A team of VORTEX2 scientists last year, for example, made unusually detailed observations of squall lines, which can produce damaging hail and lightning, and sometimes tornadoes as well.
"We have a vast collection of tools that can give us unique insights into the atmosphere," said George Bryan, an NCAR scientist and VORTEX2 principal investigator. "So we try to get the most out of them that we can."
The study area spans more than 900 miles (1,448 kilometers), stretching from West Texas to southwestern Minnesota.
"VORTEX2 is fully nomadic with no home base," said lead scientist Josh Wurman of the Center for Severe Weather Research (CSWR) in Boulder, Colo. Scientists will roam from state to state in the U.S. Plains following severe weather outbreaks.
"When we get wind of a tornado," Wurman said, "we spring into action."
The $11.9 million VORTEX2 program is funded primarily by the National Science Foundation, which sponsors NCAR, and by the National Oceanic and Atmospheric Administration (NOAA).
Images: Tornado Chasers
Tornado Images, Science and History
Stay up to date on the latest science news by signing up for our Essentials newsletter.
For the science geek in everyone, Live Science offers a fascinating window into the natural and technological world, delivering comprehensive and compelling news and analysis on everything from dinosaur discoveries, archaeological finds and amazing animals to health, innovation and wearable technology. We aim to empower and inspire our readers with the tools needed to understand the world and appreciate its everyday awe.