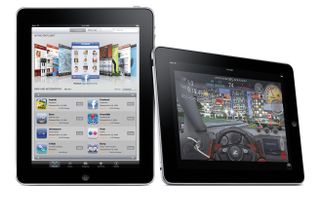 The Apple iPad will, by design, be many things to many people: a daily planner, a Web browser, a media player, an e-book reader, and much more. But even more interesting, and possibly more unexpected, is the potential for the iPad to turn into a major gaming platform.
That's not just idle speculation either. Many iPhone app developers are gearing up to make games for the iPad, and they're expecting great success.
The iPhone itself was an unexpected sensation in the gaming industry. Originally thought of as a productivity device, the iPhone soon had a myriad of games available for download in Apple's App Store, and users responded well to them.
Just last month, a popular game called Plants vs. Zombies set a record in the App Store, selling over 300,000 copies of the game in just nine days. That made Plants vs. Zombies the fastest-selling app — game or otherwise — in the history of the App Store.
"Very few people expected the iPhone to be as successful a gaming platform as it has become," said Tom Frencel, founder of iPhone game developer Little Guy Games. "I think the iPad has the potential to be a very successful gaming platform, and I think many skeptics will once again be surprised by its impact on the gaming ecosystem."
Apple itself has been heavily promoting the iPad as a complete gaming console in hopes that game developers will take advantage of the iPad's larger screen and fast processor. At the iPad's launch event in January, Apple CEO Steve Jobs touted the iPad as a gaming device, and even gave stage time to several game developers to show examples of what's possible on the device.
New opportunities
While gamers have yet to test Jobs' claims, many developers are already sold on the iPad as a gaming device.
"I look at it as a personal console," said Dave Castelnuovo, founder of Bolt Creative, creator of the highest selling iPhone game of all-time, Pocket God. "It's portable enough to take with you around your home, with a large enough screen that you can create an experience that you would normally find on a non-portable device."
For Castelnuovo, making iPad-specific games isn't a question of if, but when. Despite great success in the iPhone gaming market, Bolt Creative has remained a small operation and Castelnuovo is looking to allocate resources for iPad games without abandoning iPhone and iPod Touch development.
Other developers are ready to jump in right away. Frencel said his Little Guy Games already has an iPad-specific game in development, which the company is very excited about.
Major game publishers are readying titles for the iPad, too. Electronic Arts and Gameloft, which release titles for mobile platforms and game consoles, also demoed iPad games during the launch event. Both companies expressed excitement about iPad gaming and promised more titles specifically for the iPad.
While some game companies are ready to go all in with the iPad, others are taking a wait-and-see approach. Though optimistic, Mitri Bautista-Wiberg, Founder of Polarbit, a game developer for iPhone and Android platforms, knows iPad games still aren't a sure sell.
"It's really difficult to tell at this point. Technically, there's no reason why it shouldn't be [a success]," Bautista-Wiberg told TechNewsDaily. "It isn't really possible to point to any specific genre as a sure-fire App Store hit, and off-beat titles can rise to the top of the charts, if they get a little bit of momentum going. There's no magic formula to apply."
Porting over iPhone games
Many game developers will be counting on sales of their current iPhone titles to gauge the success of the iPad as a gaming platform before coding games specifically for the device. Daniel McNeely, founder of Armor Games, is one of them.
"The market is underdetermined at the moment," McNeely said, "so we will be looking to bring some of our current iPhone games to the iPad with the hopes of optimizing graphics."
Apple has said the iPad will be compatible with iPhone apps, including games. The only problem is that those games still appear on the iPad in a small window the size of an iPhone screen, which doesn't give a lot of incentive to use the iPad over the iPhone as a gaming device. It's possible to make iPhone games fill the iPad's entire screen, but doing this lowers the resolution of the games.
Still, some developers are more comfortable with tweaking the graphics in an existing iPhone game than spending time and money on coding an entirely new game, at least until they can see how the iPad performs.
"We'll likely be updating some existing or soon-to-be-released titles for the iPad, while also doing dedicated iPad versions of upcoming titles," Bautista-Wiberg said.
Skeptics and enthusiasts alike can agree on one thing though: the iPad opens up a lot more options for mobile game designers. The biggest advantage for gamers will be the enormous amount of screen real estate in comparison to the iPhone.
"We are very excited to work with a larger screen," Bolt Creative's Castelnuovo said. "With the iPhone, we had to be really careful that the interface didn't cover the action so it ended up being a little cramped in some areas. With the iPad there is so much space that it frees us up to make functionality more accessible to the user."
The larger screen will not only improve image quality, it should make the interface easier to control with a finger.
"Bigger screen real estate provides greater resolution for accurate gesture detection, making gesture based controls more user friendly," Frencel of Little Guy Games explained.
New game forms
The iPad could also allow two players to play a multiplayer game on a single device, Frencel said. This sort of gaming, where two or more people use the same touchscreen, has been demoed on large touchscreen interfaces, such as Microsoft's Surface table, but it has not shown up in a major consumer device. Some developers are excited about the possible explosion of these types of multiplayer games.
Castelnuovo likens multiplayer gaming on one iPad to playing competitively on older consoles before online multiplayer became a more common option. He even thinks it would have advantages over the old paradigm for friends and family.
"Two to four people can all sit around an iPad and play a game together like in the old days. It would still be a digital game but people would be facing each other rather than all staring in the same direction into a TV," he said.
That's just one new innovative idea the iPad has sparked in developers, and there will likely be more.
"The real magic will come in the form of software and there is a huge community of iPhone developers that I expect will be creating some really innovative apps for this device," Castelnuovo said.
While creativity is a great motivator, the sheer amount of money some developers have made will still be the major impetus to develop for the iPad. According to estimates, iPad online pre-orders surpassed 150,000 in just three days. And many of those new iPad owners will be looking to buy apps.
"The launch of a new Apple product line always makes you sit up and take notice," Bautista-Wiberg said. "If [Apple] can do for ultra-portable computers and tablets what they've done for portable media players and smartphones. That's an opportunity developers can't afford to miss."
Stay up to date on the latest science news by signing up for our Essentials newsletter.