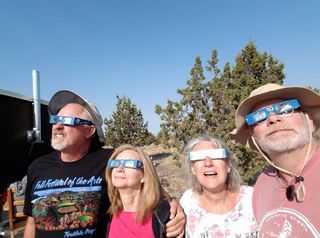 (Image credit: Dean Derek)
Totality is over, the moon is back to playing second fiddle relative to the sun — and yet you still have six pairs of eclipse-viewing glasses left from the eclipse party you threw yesterday (Aug. 21).
What, exactly, do you do with them?
For many people, the answer may be: donate them! [How to Make a Solar-Eclipse Viewer (If You Can't Get Glasses)]
One organization is planning to redistribute used eclipse viewers so that children in South America and Asia can have an equally awe-inspiring view of a total solar eclipse in 2019.
Of course, yesterday's sun-darkening event probably also created quite a few eclipse junkies. Luckily, another total solar eclipse is coming to America in 2024, and glasses made with the most recent specifications will still be good then, according to NASA.
Glasses overload
Over the past few months, millions of eclipse-viewing glasses were distributed. For instance, public libraries dispersed 2.1 million pairs of eclipse-viewing glasses prior to the big event on Aug. 21. American Paper Optics had a goal of producing 100 million pairs of eclipse viewers prior to totality, according to a statement.
But now, those indispensable tools for viewing the wonder of the heavens are now … very dispensable. But what, exactly, do you do with them?
It turns out that they don't have to go to waste. Astronomers Without Borders, an organization whose aim is to help bring the world together through the love of astronomy and the wonders of the universe, is organizing the drive for the 2019 total solar eclipse. So far, the company hasn't specified where the viewers can be picked up, but it is currently partnering with astronomy clubs and corporations to set up easy pickup sites.
"Give your eclipse glasses a second chance! Astronomers Without Borders and its partners will be announcing a program to collect glasses after the eclipse, to be sent to schools in South America and Asia when eclipses cross those continents in 2019," the organization said on its Facebook page.
Reuse those glasses
Of course, many people may have had such a life-changing experience during the eclipse that they want to re-create it as soon as possible. While a dedicated few may chase eclipses across the seven continents, people in the United States can sit tight until April 8, 2024, when the skies will darken over the country once again. Unless the glasses you purchased did not meet current safety specifications, they can be reused for that eclipse.
Many eclipse-viewing glasses come with an expiration date. However, those guidelines may be outdated, according to NASA. It turns out that a new standard for eclipse viewers, called ISO 12312-2, was adopted in 2015, and the new standard means the viewers are durable.
"Some glasses/viewers are printed with warnings stating that you shouldn't look through them for more than 3 minutes at a time and that you should discard them if they are more than 3 years old," NASA said in a statement. "If the filters aren't scratched, punctured, or torn, you may reuse them indefinitely."
So the easiest thing to do with the eclipse viewers is to store them gently in a box out of the way, where they are unlikely to be damaged — and then unbox them in seven years in preparation for your next celestial party.
Originally published on Live Science.
Stay up to date on the latest science news by signing up for our Essentials newsletter.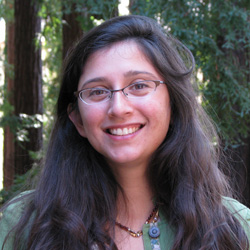 Tia is the managing editor and was previously a senior writer for Live Science. Her work has appeared in Scientific American, Wired.com and other outlets. She holds a master's degree in bioengineering from the University of Washington, a graduate certificate in science writing from UC Santa Cruz and a bachelor's degree in mechanical engineering from the University of Texas at Austin. Tia was part of a team at the Milwaukee Journal Sentinel that published the Empty Cradles series on preterm births, which won multiple awards, including the 2012 Casey Medal for Meritorious Journalism.