Electrified Droplets Create Mini Saturn Planets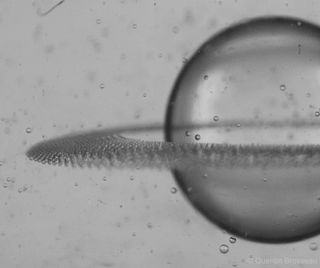 (Image credit: Q. Brosseau and P.M. Vlahovska)
By electrifying tiny drops of fluid, scientists have created miniature versions of the ringed planet Saturn.
Though gorgeous to look at, the resulting "planet" has more than aesthetic value: The achievement could help lead to new ways of generating microscopic and uniform particles and capsules often used in products such as drugs, inks, cosmetics, paints and ceramics, researchers said.
When a drop of electrically conductive liquid is exposed to an electric field, the droplet responds by forming two electrically charged poles. Previous research has shown that these poles can get pulled toward the sources of the electric field, taking on cone shapes. If the pull is strong enough, the tips of the cones can spray jets of droplets. [Dazzling Droplets: Photos Reveal Mini Worlds]
Experiments regarding this effect, known as electrospraying, often involved drops of liquid surrounded by less electrically conductive fluids. In the new study, senior author Petia Vlahovska, an engineer at Northwestern University in Evanston, Illinois, and colleagues wanted to explore what happens when drops of liquid are submerged in more electrically conductive fluids — specifically, drops of silicone oil suspended in castor oil.
Previous research found that when a drop that is more electrically conductive than its surroundings gets caught between two electrified plates, its poles take on the opposite electric charge of those plates. When it comes to electricity, opposites attract, so the poles of the droplet get pulled outward (toward the plates) to become cones, with the drop taking on a football shape.
These new findings reveal that when a drop is less electrically conductive than its surroundings, its poles take on an electric charge that is the same as the electrodes (the electrified plates). Since like repels like, "the repulsion between the electrodes and the poles squashes the drop into [an] M&M-like shape," Vlahovska told Live Science.
If an electric field is strong enough, the researchers found that the equators of these squashed drops emit concentric rings of droplets, making the drops look like miniature versions of Saturn. In experiments, drops of silicone oil about 1 millimeter wide generated droplets that were about 100 times smaller, Vlahovska said.
"I was surprised by the fact that rings detached from the drop — I was not expecting it all," Vlahovska said.
Vlahovska noted they could generate rings in a very controllable way. "You can turn the streaming on and off at will," she said.
Future research will explore what materials can be used to produce this "ring of particles" effect. "The broader the range of materials, the wider the applications will be," Vlahovska said.
Vlahovska and her co-author Quentin Brosseau at New York University are scheduled to detail their findings online July 20 in the journal Physical Review Letters.
Original article on Live Science.
Stay up to date on the latest science news by signing up for our Essentials newsletter.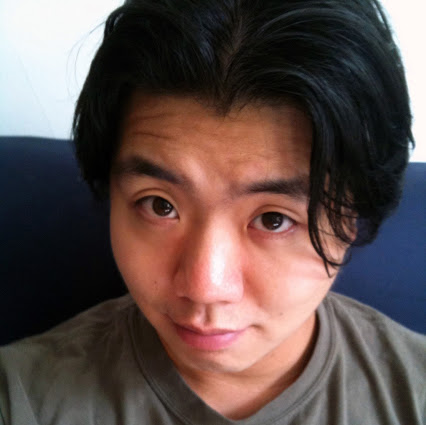 Charles Q. Choi is a contributing writer for Live Science and Space.com. He covers all things human origins and astronomy as well as physics, animals and general science topics. Charles has a Master of Arts degree from the University of Missouri-Columbia, School of Journalism and a Bachelor of Arts degree from the University of South Florida. Charles has visited every continent on Earth, drinking rancid yak butter tea in Lhasa, snorkeling with sea lions in the Galapagos and even climbing an iceberg in Antarctica.