People with Mental Illness Struggle with Health Disparities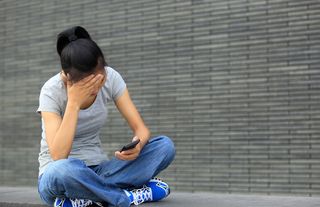 (Image credit: lzf/Shutterstock.com)
Despite the implementation of major health care reforms in the United States, people with mental health conditions are still finding it difficult to get the health care services they need, a new study suggests.
The researchers found that adults with mental illnesses were about 10 times more likely to put off buying the medications they needed because of the cost of these meds. In addition, adults with mental illnesses were about three times more likely to delay seeking medical care, compared with adults without mental illness. They were also about three times more likely to have visited a doctor more than 10 times in the past year for their overall health problems, and were more likely to be uninsured, according to the study, published today (April 17) in the journal Psychiatric Services.
Together, these findings suggest that people with mental health conditions are having poorer health relative to people without mental illness, said lead study author Judith Weissman, an epidemiologist at NYU Langone Medical Center in New York City. The research also shows that people with mental illness encounter more hurdles when they try to access health care, Weissman said. [7 Ways Depression Differs in Men and Women]
Moreover, the research suggests that there is a large and growing population of people with mental illness who are trying to get the medical help they need for either a physical problem or a mental health problem, but can't, Weissman said.
Although the people with mental health conditions in the study had more frequent doctor's appointments than those without mental health conditions, they were also more likely to have to change the location where they received medical services during the study, often for insurance reasons, according to the findings.
Such frequent changes can disrupt treatment plans and relationships with health professionals, and prevent people from feeling better, Weissman said. Moreover, people with mental health conditions may turn to primary care physicians for help, but these doctors may not have the appropriate training to treat people with mental health conditions, she added.
Serious psychological distress
In the study, the researchers looked at data from the National Health Interview Survey, a yearly survey conducted by the Centers for Disease Control and Prevention to evaluate the health of Americans. They analyzed data from more than 200,000 adults ages 18 to 64 collected over a nine-year period, from 2006 to 2014.
To determine the participants' mental health status, the interviewers asked six questions designed to measure whether the participants had "serious psychological distress." They asked the participants to indicate how frequently during the past 30 days they felt deeply sad, nervous or hopeless. The researchers also asked the participants how often they felt restless or fidgety, worthless, or that everything was an effort. [9 DIY Ways to Improve Your Mental Health]
Higher scores on this test of "serious psychological distress" are considered a valid way to estimate people's mental health within a community, Weissman said. The test is not meant to diagnose anyone with a mental health condition, but it can pick up clues of a person's level of psychological distress, which will likely include the people who have a mental health condition such as depression, anxiety or bipolar disorder, she noted.
According to the findings, an estimated 3.2 percent of adults in the United States experienced "serious psychological distress" per year, on average, during the study period. In addition, the overall the rate of people affected by mental illness trended upward over the later years of the study, the researchers found. The 3.2 percent estimate is likely a low estimate of the prevalence of mental illness because the CDC survey does not include people who are homeless or institutionalized, the researchers noted.
The generally high cost of health care affects people with mental illness more than others, the study also found. For example, by 2014, six years after the economic downturn began, people with serious psychological distress were still being hurt by the downturn, compared with people who had better mental health: They were doing worse on measures of health care access and utilization than they were in 2006, despite the enactment of the Affordable Care Act, Weissman said. They were doing worse on measures of health care access and utilization than they were in 2006, despite the enactment of the Affordable Care Act, she noted.
The researchers did not look into the specific reasons why adults with mental illness were facing more barriers to health care, but Weissman speculated on some possibilities.
First, there are not enough mental health care providers, especially in rural areas, thus making it hard to obtain necessary care, she said. In addition, unlike physical health problems, mental illness still has a stigma attached to it, leading people to self-medicate their emotional distress by smoking or drinking, Weissman noted.
To improve health care access for people with mental illness, there need to be more links between primary care providers and mental health professionals in the community, Weissman suggested.
Originally published on Live Science.
Stay up to date on the latest science news by signing up for our Essentials newsletter.
Cari Nierenberg has been writing about health and wellness topics for online news outlets and print publications for more than two decades. Her work has been published by Live Science, The Washington Post, WebMD, Scientific American, among others. She has a Bachelor of Science degree in nutrition from Cornell University and a Master of Science degree in Nutrition and Communication from Boston University.