Trump Picks Strident Foe of EPA to Lead the EPA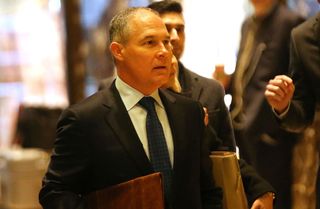 (Image credit: Spencer Platt/Getty Images)
President-elect Donald Trump has chosen Scott Pruitt, Oklahoma's attorney general and a champion of the oil and gas industry, to run the Environmental Protection Agency — the federal office that enforces nearly all laws that protect America's air and water.
Pruitt, among the nation's most vehement critics of the EPA and Obama administration climate and environmental policies, has forcefully opposed federal mandates for power plant pollution controls and cutting carbon emissions to curb Americans' impact on the climate.
Writing in a National Review column in May, Pruitt and Alabama Attorney General Luther Strange falsely stated that scientists disagree about the "degree and extent of global warming and its connections to the actions of mankind."
"That debate should be encouraged — in classrooms, public forums and the halls of Congress," Pruitt and Strange wrote. "It should not be silenced with threats of prosecution. Dissent is not a crime."
Related:
EPA Imperiled Under Ebell, But Agency May Survive Yet Appeals Court Mulls Challenge to Clean Power Plan The Suit Against the Clean Power Plan, Explained
To scientists — and most nations around the world — the science of climate change is clear, however: Human carbon dioxide emissions from burning fossil fuels are warming the climate at a rate unprecedented in human history, leading to extreme weather, rising seas, melting polar ice caps and innumerable other consequences.
The Obama administration's efforts to use the Clean Air Act to regulate carbon dioxide emissions is a cornerstone to its Climate Action Plan. The plan seeks to cut carbon dioxide and other greenhouse gas emissions in an effort to prevent global warming from exceeding 2°C (3.6°F) as required under the Paris Climate Agreement.
Pruitt opposes the biggest part of the Climate Action Plan, a regulation called the Clean Power Plan, which uses the Clean Air Act to cut carbon pollution from existing coal-fired power plants. The U.S. Supreme court has blocked the Clean Power Plan from taking effect until lower courts decide on whether it violates the Constitution.
Shortly after the Clean Power Plan was finalized, Pruitt, as Oklahoma attorney general, joined 23 other states in suing the EPA to stop it from taking effect. Pruitt and Strange said the Clean Power Plan works by "executive fiat," and said that it will shutter coal-fired power plants and increase the cost of energy.
The New York Times reported in 2014 that fossil fuels industry lobbyists drafted letters for Pruitt to send to the EPA opposing its environmental regulations. The same year, Pruitt joined a group associated with the oil and gas company Continental Resources to oppose adding some of Oklahoma's threatened wildlife to the federal endangered species list.
Pruitt opposed the federal government's efforts to reduce regional haze in southwestern Oklahoma by requiring the state to install pollution control equipment on coal-fired power plants. In doing so, Pruitt said the EPA "usurped the right of Oklahoma" to set its own energy policy.
In 2013, Pruitt told told StateImpact, an NPR reporting project, that the EPA can serve a valuable purpose, but it has exceeded its mandate to regulate clean air and water by picking winners and losers in the energy industry.
"Some believe that we don't need an EPA, that they don't have any role at all," Pruitt said. "I'm not one of those folks. I think the EPA can serve — and has served, historically — a very valuable purpose."
EPA climate regulation experts said Pruitt's nomination signals Trump's desire to roll back many U.S. climate policies.
"My initial reaction: This is not good for climate law in America," said Michael Burger, executive director of the Sabin Center for Climate Change Law at Columbia University. "Pruitt is a climate denier, who has stated his intention to dismantle EPA's climate regulations. We can and should expect he will attempt to do so, and that he will be sued every step along the way by states, cities and environmental groups devoted to continuing progress."
Robert Stavins, a professor of business and government at Harvard University, said Trump's nomination of Pruitt "does not portend enthusiasm for aggressive domestic climate change initiatives."
Stavins said it is less clear what Pruitt's views and actions will be on the many other areas of EPA's statutory responsibilities.
"We now have an EPA-attacking, climate-change-denying, Clean-Power-fighting administrator in charge of the EPA," Rob Jackson, an earth system science professor at Stanford University, said. "How many lives will we sacrifice to make the EPA more 'friendly' and 'efficient'?"
Rhea Suh, president of the Natural Resources Defense Council, said in a statement that the mission of the EPA is to safeguard public health and protect America's air, land and water.
"The American people did not vote to return the country to the dirty old days or to turn a blind eye on dangerous climate change," she said. "If confirmed, Pruitt seems destined for the environmental hall of shame."
You May Also Like: Google Plans to Be 100 Percent Renewable Next Year Climate Advocates Get a Huge Donation Trump Bump Second-Warmest October Cements Hottest Year The Agonizing Wait For Trump to Speak on Climate Policy
Original article on Climate Central.
Stay up to date on the latest science news by signing up for our Essentials newsletter.