3,000-Year-Old Mummy Found in Egyptian Tomb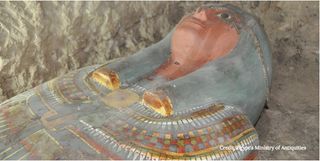 (Image credit: Egypt's Ministry of Antiquities)
Spanish archaeologists have unearthed an ancient Egyptian mummy in "very good condition" near Luxor, Egypt's antiquities ministry has announced.
Resting inside a brightly colored wooden sarcophagus, the mummy had been bound with linen stuck together with plaster.
"The tomb was uncovered at the southern enclosure wall of the Temple of Millions of Years," Mahmoud Afifi, head of the ancient Egyptian antiquities department of the ministry, said in a statement.
The temple was built on the west bank of the Nile near Luxor by Pharaoh Thutmosis III (1490-1436 BC), one of Egypt's greatest warrior kings. Also known as the "Napoleon of Egypt," he was the sixth Pharaoh of the Eighteenth Dynasty, the best known of all the dynasties of ancient Egypt as it boasted pharaohs such as Hatshepsut, Amenhotep III, Akhenaten and Tutankhamun.
RELATED: Ancient Egyptian Mummy Wearing Jewels Found
The mummy is believed to be the body of a man named Amenrenef, who held the title of "Servant of the King's House." Amenrenef, however, did not live under Thutmosis III. His tomb likely dates from the Third Intermediate period around 1,000 BC, probably to the 21st Dynasty.
"When the temple was already not functioning, the area was used as a necropolis," Egyptologist Myriam Seco Álvarez, head of the Spanish archaeological team, told Seeker.
"Until now we knew about the necropolis under the temple dated to the Middle Kingdom, but we didn't know about the Late Period tombs and this one of the Third Intermediate Period," she added.
The 3,000-year-old mummy case features "many colorful decorations recalling religious symbols of ancient Egypt," the Egyptologist said.
Álvarez, who has been working at the Temple of Millions of Years since 2008, noted that the inscriptions and decorations include solar symbols, the protective goddesses Isis and Nephthys spreading their wings, the four sons of god Horus, and many other finely painted scenes.
"The mission will now study the tomb and its contents to find out more about its owner," Afifi said.
Originally published on Seeker.
Stay up to date on the latest science news by signing up for our Essentials newsletter.