'Shotgun' Marriages Up Among Some Groups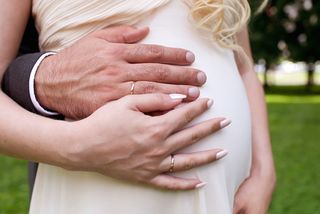 (Image credit: Yana Ermakova/Shutterstock.com)
The "shotgun marriage" may be on the decline: It's only very rarely now, statistics from one state suggest, that couples hastily marry to avoid the social stigma of an out-of-wedlock pregnancy.
Nevertheless, new research finds that even as overall marriage rates have declined, the "midpregnancy marriage," as it's more scientifically known, has become an important subset of marriages in some demographic groups. And surprisingly, in some groups whose members are generally at a higher risk of divorce, getting married during the woman's pregnancy may not make a couple more likely to split.
"These were fairly resilient marriages, much to our surprise," said study author Christina Gibson-Davis, a researcher in public policy at Duke University. [6 Scientific Tips for a Successful Marriage]
Marrying midpregnancy
In the study, Gibson-Davis and her colleagues analyzed all records of new marriages and births in North Carolina between 1992 and 2012 and found that overall, midpregnancy marriages are down. Only 5.2 percent of all births in 2012 were to parents who married during a woman's pregnancy, according to the findings that were published today (Nov. 1) in the journal Demography.
When considered as a percentage of all births, births after midpregnancy marriage dropped between 1992 and 2012 among both blacks and whites. In 1992, 8.8 percent of all births to white mothers were in the context of a midpregnancy marriage, compared with 6.3 percent in 2012. For black mothers, the decline was smaller, from 2.7 percent of all births to 2.6 percent of all births.
These findings echo what earlier national studies have suggested — that the stereotypical "shotgun marriage" is getting pretty uncommon: Only about 4 percent to 8 percent of births in the U.S. were to women who got married during the pregnancy, according to a 2012 study that analyzed data from 1997 and which was co-authored by Gibson-Davis. (For comparison, 10 percent of births were to women who started living with their partner but who didn't marry during the pregnancy, the same study found.)
"Nobody thinks there's a man out there with a shotgun pointing at some quivering guy, saying, 'You must marry my daughter'" because she's pregnant, Gibson-Davis told Live Science.
Nevertheless, she and her colleagues were interested in the role of midpregnancy marriages and what they might reveal about how people's childbearing choices and their marriage choices influence each other.
Disadvantage and divorce
Gibson-Davis and her colleagues narrowed their data to 244,753 "married births" — meaning births that occurred among couples who had both married in North Carolina and had their first child there sometime after they got married. Among these marriages, there were 46,772 divorces over the study period.
While the first numbers in the study examined midpregnancy marriages in the context of all births, this matched data allowed the researchers to study midpregnancy marriages in the context of only married births. Marriage rates in general are on the decline, especially in more disadvantaged groups like black Americans and those with lower education — thus, midpregnancy marriages could represent a decline overall (because fewer people feel the stigma of an unwed pregnancy and can just dispense of marriage entirely), while still making up a growing percentage of the shrinking slice of births to married couples.
"What we were really surprised to find is that the prevalence of these midpregnancy married births among more disadvantaged groups is actually pretty high," Gibson-Davis said. "It was about 20 percent [of all married births], roughly."
For example, among white women under 25, midpregnancy marriages made up 24 percent of births to married couples, the researchers reported. For black women under 25, the percentage was 26 percent of all married births. For white women with a high school diploma or less, 23 percent of births were to married couples, up from 16 percent in 1990. For black women with a high school diploma or less, 19 percent of births were to couples who married during midpregnancy, up from 12 percent in 1990.
In comparison, midpregnancy marriages among white women older than 25 with at least a bachelor's degree was a steady 5 percent of all married births between 1990 and 2012, highlighting the fact that for more-educated and white couples, marriage is still likely to precede pregnancy. [I Don't: 5 Myths About Marriage]
Another surprise was the finding that "shotgun marriages" don't always herald relationships that are headed for divorce. Among white women, these marriages did increase the divorce rate: A midpregnancy marriage raised the risk of divorce to 30 percent over the first 10 years of marriage, compared to 19 percent among couples who married before the woman became pregnant.
But for black women, midpregnancy marriages had a 23 percent chance of ending in divorce by 10 years, while couples who married before the woman became pregnant had a 20 percent chance of breaking up — a "striking" similarity in rates, the researchers reported.
The data doesn't speak directly to why the risk of divorce for white women who marry during midpregnancy might be bigger than it is for black women. Women in higher-educated demographics may experience more pressure and stigma to marry before they have a child, Gibson-Davis said, meaning that they might be more likely to choose to marry more for the baby than for any real desire to cement the relationship. Women in demographic groups where marriage is comparatively less common may not feel as much pressure to just get married, and might marry only if they really want to.
"Maybe these are more relationship-based decisions," Gibson-Davis said.
The researchers did not look at racial or ethnic groups beyond whites and blacks, and focused only on North Carolina — though that state's numbers are relatively representative of the rest of the nation, Gibson-Davis said. There are many questions left to answer, she said. The study couldn't discern whether the couples who had midpregnancy marriages were happy, or how children of these relationships fare.
Government programs to encourage marriage, especially for low-income families, are predicated on the idea that children of married parents are better off than children of unmarried parents. It's important, Gibson-Davis said, to find out more about how the timing of those marriages might influence the children.
Original article on Live Science.
Stay up to date on the latest science news by signing up for our Essentials newsletter.
Stephanie Pappas is a contributing writer for Live Science, covering topics ranging from geoscience to archaeology to the human brain and behavior. She was previously a senior writer for Live Science but is now a freelancer based in Denver, Colorado, and regularly contributes to Scientific American and The Monitor, the monthly magazine of the American Psychological Association. Stephanie received a bachelor's degree in psychology from the University of South Carolina and a graduate certificate in science communication from the University of California, Santa Cruz.