Nature's Wrath: Global Deaths and Costs Swell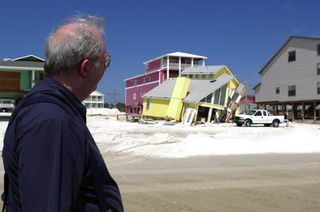 (Image credit: FEMA/Jocelyn Augustino)
On the heels of a deadly hurricane season officials have detailed an extraordinarily catastrophic year for humans at the hands of Nature.
Three times more people died worldwide last year in natural disasters than they did the year before, according to a new report. The cost in damages from 2003 events was double that in 2002.
Although 2004 is not yet over, the relentless barrage of hurricanes that battered the Caribbean and southeastern United States will anchor yet another perilous year that is part of a growing trend in the quantity and severity of disasters. The rise in tragedy owes partly to an increase in urban populations, as well as variations in climate, according to the latest World Disasters Report, released Thursday by the International Federation of Red Cross and Red Crescent Societies.
The report includes a glimmer of hope, however: Improved forecasting has actually helped lower traditionally dismal death tallies from some weather events, and overall deaths were in decline until the remarkably high tally of 2003.
More vulnerable
More and more people are moving into hastily built developments, placing them in a vulnerable situation if disaster should strike, the report states. Climate shifts, which expose unprepared populations to extreme events, also play a role.
Maxx Dilley, a disaster specialist from the International Research Institute for Climate Prediction, was not involved in drafting this year's disaster report, but he worked with the Red Cross to help victims from the 2001 earthquake in Gujarat, India.
"Many of the buildings were made of unreinforced masonry, so they collapsed, trapping people inside," Dilley told LiveScience.com.
There were over 20,000 deaths in Gujarat. Dilley compared this to an earthquake of similar magnitude that occurred one month later in Seattle, where one death was recorded. The difference was more modern constructions.
Another big factor in disasters is climate change. Dilley said the Red Cross has been in the forefront of drawing attention to this topic.
"We have measured that the global temperature is increasing," he said. "It stands to reason that these trends will affect climactic patterns. So the frequency of extreme climactic events could change."
The number of reported disasters increased by two-thirds over the last decade. In 2003 more than a quarter of a billion people were affected by disasters, with the financial burden of these events estimated to exceed $56 billion.
"You have to look at these numbers in context," Dilley said in a telephone interview. "For some countries, these costs are just a drop in the bucket."
In highly developed countries, there was an average of $318 million worth of damage per event - more than 11 times higher than the figure in low human development countries. "However, the statistics fail to capture the far more devastating impact which disasters have on GDP [Gross Domestic Product] in poorer countries," the Red Cross report states.
This impact may be reflected in the fact that 300 people die per disaster in poor countries, as compared to 44 people per event in more well off countries.
The details
The total number of people killed in 2003 disasters was 76,000. This number was skewed by two major events: the August heat wave in Europe that claimed more than 22,000 lives, and an earthquake in the Iranian city of Bam that killed between 30,000 and 40,000.
The average death toll has been on the decline in the years prior to 2003 - a fact that the Red Cross attributes to better satellite forecasting and early warning systems that have helped communities prepare for weather-related disasters.
"In Bangladesh, there would be 100,000 deaths in the past from a cyclone, but you don't get those numbers anymore," Dilley said.
Bam, Iran quake killed more than 30,000 in 2003. Credit: : Farooq Burney /IF
It is likely, too, that loss of life was reduced during the recent bout of Atlantic hurricanes thanks to improved forecasting.
Key statistics from the World Disasters Report
From 1999 to 2003, reported disasters averaged 707 disasters each year, up two-thirds from the previous five years. In countries of low human development, the increase was 142 percent.
For the last five years, an average of 303 million people were affected by disasters, constituting a rise of more than 40 percent from a decade ago.
Weather-related and geophysical disasters are more frequent, by about 60 percent, now than ten years ago.
The death toll from disasters has actually been on the decline, with 2003 being a marked exception.
Over half of all deaths in natural disasters are due to drought and famine. Since 1994, they have claimed 275,000 lives.
Drought and famine claim in excess of 1,000 lives per reported event, compared to 370 per earthquake and 300 per extreme temperature event.
Heat waves kill more people in the United States than hurricanes, tornadoes, earthquakes and floods combined.
2004 so far
Whether the noted trends will continue into 2004 is not yet known, but some preliminary statistics have been released.
Globally, 818 people have been killed by earthquakes in 2004 as of Friday, according to the U.S. Geological Survey.
Meanwhile, more than 100 people in the continental United States were killed by hurricanes this summer. The storms killed thousands in the Caribbean in one of the worst Atlantic hurricane seasons on record.
Hurricane Charley first struck the state on Aug. 13, followed by Frances, Ivan and Jeanne. Jeanne alone killed more than 2,000 people in the Caribbean, as reported by the National Hurricane Center.
U.S. officials announced last week that federal and state disaster aid reached $2 billion in Florida after the spate of hurricanes. More than 1 million Floridians have registered for assistance.
The cost of the hurricanes, as measured by insured losses, is expected to exceed $18 billion.
Tornadoes have killed 31 people in the United States so far this year, according to the federal Storm Prediction Center. Over the previous three years, deaths by tornado averaged 49 per year.
10 Big Disasters
Geophysicist David Crossley of St. Louis University made what he calls a subjective list of 10 of the worst natural disasters:
1992 - Hurricane Andrew, killed 26, but property damage was $25 billion -- most expensive natural disaster in U.S. history.
1985 - Nevado del Ruiz (Columbia) volcano killed 25,000 people, most caught in a massive mudflow.
1976 - Tangshan earthquake in China, a magnitude 8 event, killed somewhere between 255,000 and 655,000.
1815 - Tambora, Indonesia volcano of 1815. 80,000 people died of subsequent famine.
1811-12 - Two New Madrid earthquakes in Missouri are the largest ever to hit the contiguous U.S. (one was magnitude 7.9). Damage relatively light due to sparse population.
1737 - Calcutta, India event killed 300,000. Once thought to have been an earthquake, scientists now lean toward typhoon.
1556 - Shaanzi, China earthquake killed 830,000. Nobody knows what the seismic magnitude was.
1500 B.C., or so - The Mediterranean Stroggli island blew up. A tsunami virtually wiped out Minoan civilization. Area now called Santorini; Plato called it the site where Atlantis disappeared.
3000 B.C. - Major global paleoclimate event -- not much is known -- appears to have affected sea level, vegetation and surface chemistry. Speculated by some to be the Biblical Flood.
65 million years ago - A space rock hit Earth (so most scientists believe) and wiped out the dinosaurs and countless other species.
LiveScience, SOURCE; David Crossley
Stay up to date on the latest science news by signing up for our Essentials newsletter.
Michael Schirber began writing for LiveScience in 2004 when both he and the site were just getting started. He's covered a wide range of topics for LiveScience from the origin of life to the physics of Nascar driving, and he authored a long series of articles about environmental technology. Over the years, he has also written for Science, Physics World, andNew Scientist. More details on his website.