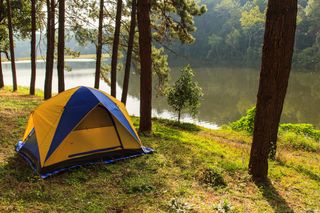 (Image credit: PK.pawaris | Shutterstock.com)
Whether you're swimming in crystal-clear lakes, taking in the stunning panoramic views of mountains, or frolicking in fields of blooming wildflowers, camping in nature can be one of the best ways to get out and enjoy the summer months.
But how do you pick a campsite in a country overflowing with natural beauty? Nearly 1 million square miles (2.6 million square kilometers), or about 14 percent of the U.S.' total landmass, is under some form of protection, according to Protected Planet, an international database of nature reserves and protected spaces worldwide.
"One of the greatest gifts the United States gave the world is a national park system, or the idea of a national park system," said Marco Johnson, the field staffing director for the National Outdoor Leadership School in Wyoming. "We just have a ridiculous amount of terrain for people to visit."
That can be an intimidating starting point for would-be nature lovers. But by using a few simple rules, people can find stunning, relaxing and pristine spots to camp for every experience level. [Visit Some of the Best Campsites in the Country]
1. Choose a comfort level.
Are you planning to ice-hike your way to the top of a snowy peak, harvest all of your water and food, and sleep on the frigid, rocky ground? Or is glamping (i.e., glamorous camping) with satellite TV more your style?
Picking a site that matches your camping experience level is key, Johnson said. For those who have never camped before, getting out with a group, such as the Sierra Club or a youth group, can be a good way to experience nature in a less intimidating way. [Hiking with Kids: 7 Tips for Getting Outside This Summer]
Car camping can also provide an easy introduction to nature, he said.
"People shouldn't pooh-pooh the idea of car camping," Johnson told Live Science.
In national parks, many "developed" campsites — which often have showers, coin-operated washers and dryers, general stores and drive-in camping spots — can be nestled atop gorgeous mountain peaks or next to bucolic lakes that are as beautiful as anything found in the rugged backcountry, Johnson said.
2. Explore the nearby area.
While summiting Mount Everest may be on some adventurers' bucket lists, most people have natural wonders much closer to home, Johnson said.
Johnson, for instance, grew up near the Adirondack Mountains in New York.
"I am as blown away by what I got to see and do back home in the Adirondacks as any of the places around the world that I've had the opportunity to go, both personally and professionally," Johnson said.
Other gorgeous spots near urban centers include Shenandoah National Park, just an hour drive from Washington, D.C.; Mount Rainier National Park, just a two-hour drive from Seattle; and Everglades National Park, an hour from Miami. [Photos: IMAX Showcases National Parks' Astounding Beauty]
Camping close to home requires less investment in time and planning, and it means people can get exposure to camping even when they haven't done it before. So if the tent is killing someone's back or your kid barfs in her sleeping bag, you can just head back home. Car camping also makes it easy to skip a hike and go to the ranger station to hear an interpretive talk if it's rainy or cold, Johnson said.
3. Reserve early.
The most popular spots, like the Grand Canyon, Yellowstone National Park and Yosemite National Park, often have popular campgrounds that are reserved months in advance, Johnson said.
Many camping spots can be booked through big sites such as ReserveAmerica or Recreation.gov. Reservations can be made up to six months in advance and can fill up in minutes, so setting a calendar reminder can be helpful to get the most coveted spots.
4. Go in the off-season.
The most visited destinations are popular for a reason: They're stunning, or have unique geological formations or one-of-a-kind attractions that simply can't be found anywhere else. But if you have your heart set on camping in Grand Teton National Park or backpacking in the Zion Narrows, there are still times when it's possible to do so, Johnson said.
"I would recommend visiting those in the shoulder season — before Memorial Day and after Labor Day," Johnson said. "You can be rewarded with a place you have much to yourself."
In many national parks, the weeks before May or after September may not have picture-perfect weather, but it isn't bone-chillingly cold, either, he said.
Campers willing to bring an extra layer or a rain jacket, a camping lantern for shorter daylight hours and a thicker sleeping bag may broaden their experience and see things the throngs miss.
For instance, wildlife may avoid crowds, so people visiting in the off-season may have a better chance to spot an elk or a moose, Johnson said.
However, check with the visitor center to determine what the off-season is. Death Valley National Park visits peak in early spring and fall, while Yosemite National Park may be blanketed in snow then. Meanwhile, summer is peak monsoon season in Zion National Park, which can lead to life-threatening flash floods, according to the National Park Service.
5. Explore state, county or local parks.
While national parks and monuments get a lot of attention, state parks are also beautiful sites to visit, Johnson said.
For instance, throngs of tourists visit Muir Woods in California, a grove of majestic, old-growth trees, some of which were around when Charlemagne was conquering Europe. But the popular tourist attraction is often clogged with people, and there's no place to camp. Given that much of the California coast is dotted with old-growth redwood forests, people may have better luck visiting lesser-known parks, Johnson said. For example, Samuel P. Taylor State Park is just a short drive from Muir Woods. And those who want to visit Grand Teton National Park may have better luck finding cabins or campsites in Bridger-Teton National Forest. Google Maps or regional outdoor books can offer guidance on what is nearby, Johnson said.
6. Take an impromptu trip.
Even if you don't plan ahead and show up to a national park to find all of the campsites filled, all is not lost. Many national parks are close to national forests, state parks and other protected areas.
People can camp in national forests as long as their car is off the road, they are willing hike in a bit to the campsite, they are willing to heed nature's call without leaving waste uncovered and are willing to pack up all their things when they leave. (They are also supposed to avoid camping near waterways to avoid polluting them, according to the U.S. Forest Service.)
In addition, the U.S. Fish & Wildlife Service, the U.S. Department of Agriculture Forest Service and the Bureau of Land Management also run campgrounds that are first-come, first-serve.
7. Protect the wilderness.
People who are willing to hike with their food, water and housing — and poop in a hole or "pack it in and out" and leave no trace — have nearly limitless options. Almost every national park has ample backcountry camping options, as do many Forest Service and Bureau of Land Management areas.
When choosing a spot, it helps to remember that these wild spaces aren't just for campers; a whole ecosystem lives there. That means people should try to minimize their impact by avoiding camping too close to water or low, shrubby plants, Johnson said.
People who find that perfect spot might be wise to keep quiet about it, Johnson said.
"I cringe every time I see an outsider article saying the 'five best parks that nobody knows about': Well, they do now," Johnson said.
Those who find a pristine spot should also look for a slightly different spot when they go camping again, "so that I'm not going back to the same spot I love over and over again and it becomes, rather than a pristine site, an 'Oh, it's definitely an impacted site,'" Johnson said.
Follow Tia Ghose on Twitterand Google+. Follow Live Science @livescience, Facebook & Google+. Original article on Live Science.
Stay up to date on the latest science news by signing up for our Essentials newsletter.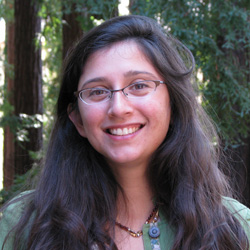 Tia is the managing editor and was previously a senior writer for Live Science. Her work has appeared in Scientific American, Wired.com and other outlets. She holds a master's degree in bioengineering from the University of Washington, a graduate certificate in science writing from UC Santa Cruz and a bachelor's degree in mechanical engineering from the University of Texas at Austin. Tia was part of a team at the Milwaukee Journal Sentinel that published the Empty Cradles series on preterm births, which won multiple awards, including the 2012 Casey Medal for Meritorious Journalism.