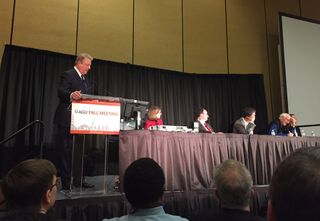 (Image credit: Mike Wall)
SAN FRANCISCO — The world may have just turned the corner in the battle against climate change, former U.S. Vice President Al Gore says.
The Paris agreement, which 195 nations signed over the weekend, could be the breakthrough that lets humanity avoid a looming climate catastrophe, Gore said here Wednesday (Dec. 16) at the annual fall meeting of the American Geophysical Union.
The plan of action laid out by the accord, "while far from ideal, nevertheless sets in motion a process of change that gives us an excellent chance of accelerating the measures that could actually bring us to a point where we can start stabilizing the climate," Gore said. [The Reality of Climate Change: 10 Myths Busted]
The Paris treaty's signatory nations — which include the United States and China, the two largest emitters of heat-trapping carbon dioxide(CO2) — agreed to cut greenhouse-gas emissions, and to set more ambitious reduction targets every five years. (The agreement does not prescribe exactly how steep these cuts must be and does not impose sanctions on countries that fail to meet the ambitious objectives.)
The overall goal is to keep average global temperatures from rising more than 3.6 degrees Fahrenheit (2 degrees Celsius) above pre-industrial levels — and ideally, to prevent this warming from topping 2.7 degrees F (1.5 degrees C).
The Paris pact by itself is no silver bullet, experts have said. But it should help foster an environment in which climate stabilization is possible, especially when combined with economic factors such as the ever-falling price of solar power and other renewable energy sources, Gore said Wednesday.
"The signal sent to the business community and the investor community, along with civil society, is very, very powerful, and we're already getting feedback that the message is being received very powerfully," he said, calling the Paris deal "a great success."
Still, the struggle against human-caused climate change is far from over, Gore stressed.
He exhorted the audience of geophysicists, atmospheric scientists and other researchers to take up the fight with renewed vigor. Gore told them to persevere despite the entrenched resistance he and other advocates have faced in their quest to shift the world economy away from polluting fossil fuels and toward cleaner sources of renewable energy.
"Every great moral cause that we have faced as a civilization has met with numerous 'no's," Gore said, citing women's suffrage, the abolition of slavery, the end of apartheid in South Africa, and the civil rights and gay rights movements, among other examples.
"All of those struggles met with ferocious resistance and one 'no' after another, but when it was eventually resolved into a binary choice between what is right and what is wrong, the outcome became inevitable because of who we are, 99 percent of us," he added. "And the struggle to save the climate balance, and to solve the climate crisis, is now yielding to that binary choice. But we are in a race against time. Damage is being done every single day."
Follow Mike Wall on Twitter @michaeldwall and Google+. Follow Live Science @livescience, Facebook & Google+. Original article on Live Science.
Stay up to date on the latest science news by signing up for our Essentials newsletter.

Michael was a science writer for the Idaho National Laboratory and has been an intern at Wired.com, The Salinas Californian newspaper, and the SLAC National Accelerator Laboratory. He has also worked as a herpetologist and wildlife biologist. He has a Ph.D. in evolutionary biology from the University of Sydney, Australia, a bachelor's degree from the University of Arizona, and a graduate certificate in science writing from the University of California, Santa Cruz.