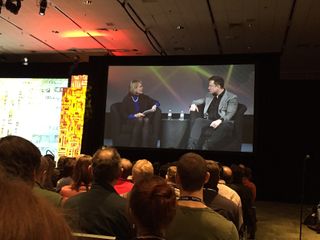 (Image credit: Mike Wall)
SAN FRANCISCO — The world's leaders should institute a carbon tax to mitigate the worst effects of climate change and help shift the global economy away from fossil fuels and toward renewable energy, billionaire entrepreneur Elon Musk said.
The current lack of a carbon tax amounts to a hidden subsidy that incentivizes "bad behavior," Musk said here Tuesday (Dec. 15) at the annual fall meeting of the American Geophysical Union (AGU).
"It's kind of like if we had high taxes on fruits and vegetables and low taxes on cigarettes and alcohol," said Musk, the founder and CEO of the private spaceflight company SpaceX. "That wouldn't make sense, but that's sort of what we have now with respect to energy, with very powerful forces trying to keep it that way." [Earth in the Balance: 7 Crucial Tipping Points]
At heart, prices are just a form of information that "tell people what to do, and what things should be favored over another thing. And so when the prices are wrong, then the wrong thing happens in the economy," he added. "Any sort of carbon tax would reduce the effective error in the system of prices in the economy."
Musk is working to reduce humanity's dependence on gas, oil and coal, which release heat-trapping carbon dioxide (CO2) into the atmosphere when burned. Musk co-founded and helms the electric-car company Tesla Motors, and he also co-founded and serves as chairman of SolarCity, the United States' largest solar-power provider.
Not surprisingly, Musk is bullish on solar, viewing it as the chief energy source of the post-fossil-fuels future.
"You could take basically a corner of Utah and Nevada and power the whole United States with solar power," Musk said. "So I think that's mostly how it will get solved."
And that future dependency on renewable energy — with solar in the lead, but also featuring hydropower, nuclear energy and other "green" sources — cannot come soon enough, Musk said.
Humanity will need to shift to a sustainable-energy economy at some point, because the world's accessible fossil fuels won't last forever, he noted.
"The question is just when [the shift occurs], and how many billions of tons of CO2 are in the atmosphere versus in the ground," Musk said. "Given that we know where we'll end up, which is a sustainable-energy economy, it seems like we should terminate this experiment as soon as possible."
Follow Mike Wall on Twitter @michaeldwall and Google+. Follow Live Science @livescience, Facebook & Google+. Original article on Live Science.
Stay up to date on the latest science news by signing up for our Essentials newsletter.
Michael was a science writer for the Idaho National Laboratory and has been an intern at Wired.com, The Salinas Californian newspaper, and the SLAC National Accelerator Laboratory. He has also worked as a herpetologist and wildlife biologist. He has a Ph.D. in evolutionary biology from the University of Sydney, Australia, a bachelor's degree from the University of Arizona, and a graduate certificate in science writing from the University of California, Santa Cruz.