Fires in Indonesia Send Orangutans Fleeing for Safety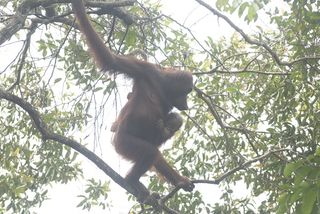 (Image credit: Daniel Kong)
Fires raging in Indonesia have blanketed parts of the island nation in a thick smoky haze, and while local officials are concerned about how the smoke will affect people in the area, the orangutan population on the island of Borneo has been hit particularly hard.
Borneo, an island territory shared by Indonesia, Malaysia and Brunei, is home to one of the largest wild orangutan populations in the world. An estimated 20,000 of these apes live on the island. Smoke from the fires has already displaced many orangutans and caused health problems related to smoke inhalation among the animals, according to the Borneo Orangutan Survival Foundation (BOSF).
The fires in Indonesia have been burning since September, and the blazes have become so severe that NASA satellites were able to capture dramatic images from space of the sprawling smoke last month. People attempting to clear land for pulpwood and palm oil plantations started the fires by illegally burning sections of forest. [In Photos: Borneo's Quirky Species]
The fires have been particularly tricky to put out, because they have taken hold in areas with peat, a type of soil made of partially decayed plant material that is rich in carbon and thus highly flammable. Peat, which is the first step in coal formation, releases large amounts of carbon monoxide and carbon dioxide when it burns, according to a 2013 study presented at the Fire Behavior and Fuels Conference held in Raleigh, North Carolina. It's often very difficult to put out peat fires because they can burn and smolder deep underground.
Baby orangutans and older apes are at the most risk from smoke inhalation, not unlike in human populations. Officials have already rescued several young orangutans suffering from acute respiratory problems, said Monterado Fridman, a member of BOSF at Nyaru Menteng. "[The babies] get flu, cough and diarrhea, and without intervention they collapse in one or two weeks," Fridman told ABC Australia.
Bornean orangutans are already classified as an endangered species, and fewer than 70,000 of these orangutans remain in the wild around the globe, according to the World Wildlife Fund (WWF). The apes play an important role in Indonesian forest ecosystems because they help spread seeds around the forest, which then become young growth plants and trees, the WWF states on their site.
These fires put orangutans at higher risk than ever, by taking away more of their habitat and introducing health problems that are not easily resolved, BOSF officials told ABC Australia. Helping these orangutans is also hard and often dangerous work, because the orangutans don't trust humans, are often found in unsafe locations near burning forests, and are difficult to sedate and relocate to safer forests or wildlife sanctuaries, the officials said.
For now, though, BOSF officials said they are doing their best to save as many orangutans as they can.
Follow Elizabeth Newbern @liznewbern. Follow Live Science @livescience, Facebook & Google+. Original article on Live Science.
Stay up to date on the latest science news by signing up for our Essentials newsletter.
Elizabeth is a staff writer for Live Science. Her interests include the mechanics of weather phenomena, quirky animal behavior, natural disasters and recent developments in the world of genetic research. She has a Master of Arts degree from New York University's Science, Health, and Environmental Reporting Program and has a bachelor's degree in geology from Bryn Mawr College. Elizabeth has traveled all over the Western Hemisphere, where she's touched a stingray, traversed the rim of a volcano and watched coral polyps feeding at night. Follow her on Twitter.