Begin Mammograms at Age 45, New Guidelines Say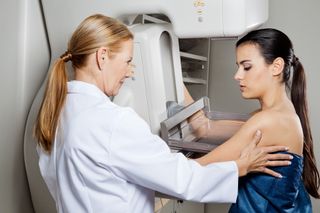 (Image credit: Tyler Olson/Shutterstock.com)
Women with an average risk of breast cancer should begin getting mammograms annually at age 45, according to new guidelines from the American Cancer Society (ACS). This recommendation raises the age at which the ACS recommends starting mammograms — in 2003, the organization recommended starting at age 40.
"The guideline-development group concluded that the risk of cancer is lower for women ages 40 to 44," and the risk of false positives is somewhat higher, compared with women in the 45-to-49 age group, said Elizabeth T. H. Fontham, a co-author of the guidelines and the dean of the Louisiana State University's School of Public Health in New Orleans. "So a direct recommendation to begin screening at age 40 was no longer warranted." A false positive is an error in a test result that indicates a woman has breast cancer when she actually does not.
However, women who want to start mammograms at 40 should still have the opportunity to do so, according to the new guidelines, published today (Oct. 20) in the journal JAMA.
Some doctors were critical of the new guidelines.
"I really don't think they are good," Dr. Kristin Byrne, chief of breast imaging at Lenox Hill Hospital in New York City, said of the new guidelines. "I think that they make them too vague and confusing for patients as well as clinicians," said Byrne, who was not involved in the research.
The guidelines are for women who have an average risk of breast cancer, who the researchers defined as women who have never had breast cancer, who don't have genetic mutations known to increase the risk of breast cancer and who did not receive radiation treatments to the chest at a young age (which may be given as a treatment for another condition), the authors of the guidelines said. [6 Things Women Can Do to Lower Breast Cancer Risk]
To come up with the new guidelines, the researchers looked at recent research on both the benefits and potential harm related to breast-cancer-screening mammography and clinical breast examination. Specifically, they examined factors such as the numbers of deaths from breast cancer that can be prevented by screening and the number of extra years of life that women could gain by screening. They also looked at false-positive findings that could require women to undergo additional imaging, or a biopsy, that wind up showing that a woman does not have cancer.
However, some false positives may actually provide patients with important information about their risk of breast cancer, Byrne said. "When we do a biopsy on a patient, and it comes back as something like LCIS — lobular carcinoma in situ — that is a false positive," she said. But having LCIS is risk factor for getting breast cancer later, she told Live Science.
LCIS is a condition in which abnormal cells are present in the lobules of the milk-producing glands of the breast, but the cells do not grow through the walls of the lobules, according to ACS's website. Women who have been diagnosed with LCIS have a risk of getting breast cancer that's seven to 11 times higher, compared to women who don't have the condition, according to ACS.
The new guidelines also recommend that women ages 45 to 54 should have a mammogram every year, but when they reach age 55, they should transition to having one every two years. This is different from the previous recommendation, which said that women age 40 and older should have a mammogram every year.
"As time went on, we began to see data that showed that the growth of tumors was much slower as women got older, and so annual screening was not as necessary," said co-author of the guidelines Robert A. Smith, of the American Cancer Society. "In other words, tumors grow slowly enough that you can screen safely every two years," Smith told Live Science.
However, women ages 55 and older should still have the opportunity to continue screening annually if they want to, according to the guidelines.
Moreover, ACS no longer recommends routine clinical breast exams for breast-cancer screening at any age, according to the new guidelines. "We just don't see evidence that clinical breast examination is accomplishing very much at all," Smith said.
But Byrne disagreed. "A lot of patients never examine their own breasts," she said. She has had many patients who have come to her because their physicians palpated a mass that turned out to be cancer, she said.
"Up to 15 percent of breast cancers are detected on clinical exam alone," she said. "Something is wrong with that guideline," Byrne added.
Follow Agata Blaszczak-Boxe on Twitter. Follow Live Science @livescience, Facebook & Google+. Originally published on Live Science.
Stay up to date on the latest science news by signing up for our Essentials newsletter.