How Green Gifts Could Power the Future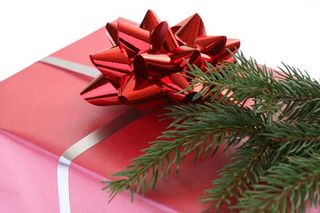 (Image credit: Dreamstime)
Editor's Note: Each Wednesday LiveScience examines the viability of emerging energy technologies — the power of the future. This week, a little twist …
The holidays are about gift-giving, but they're also about turning a new leaf and resolving to do better next year. Several green-gift ideas can help those on your list become smarter about their energy use.
Environmentally conscious giving can mean gifts that are recycled or carbon-free. Or it can mean consuming less by buying services or donating in another's name.
Some green gifts "keep on giving" by cutting energy costs. For those with lots of green in their wallet, that could mean buying a loved one a complete solar panel system ($35,000 or more) or a hybrid vehicle ($20,000 or more).
But there are some more affordable choices. Here are some hints that may inspire green giving (LiveScience, however, does not endorse any particular product):
Hand-crank flashlights. Get rid of the need for batteries while offering a tiny bit of exercise. With efficient LED bulbs, these gizmos can typically give an hour of light per minute of cranking. (Price: $10 to $20, but for a little extra you can get one with a radio and/or a cell phone charger)
Water-powered alarm clock. No more worrying about an unexpected power outage. Just add tap water and these clocks will run for two to three months before their next refill. Like in a normal battery, electrodes in the device react with the electrolyte (in this case water) to produce an electric current. (Price: around $20)
Solar-powered charger. Cell phones may not have solar panels (yet), but new charging devices can get their juice from the sun. One product claims an hour of sun can give 10 minutes of cell phone talk time. Can also work with an MP3 player or a PDA. (Price: $50 to $100)
Anti-standby power strips. Standby power is the Grinch who steals electricity. VCRs, cable boxes, computer monitors and other peripherals all use electricity when they are technically turned "off" (accounting for as much as 10 percent of a house's total consumption). If reaching around to pull the plug isn't practical, new power strips can help by shutting themselves off when they sense the computer shuts down or by providing an easy-to-use remote control. (Price: $20)
Electricity monitor. Are you in the dark over how much electricity you're using? Are you curious as to which appliances are your energy hogs? Monitors can be installed on a single plug or at the electric meter to give real-time feedback on how much electricity is being used. Knowledge is power. One provider claims that users have reduced their electricity consumption by 5 to 20 percent. (Price: $30 for single plug, $130 for whole house)
Energy audit. To avoid material gifts, one idea is to pay for a friend or family member to have a professional energy audit. This can pinpoint areas of a home that may need better insulation or new appliances. The recommended home improvements often pay for themselves in lower utility bills. (Price of an audit: $300 to $500 depending on house size)
Driving aids. Certain new car models have come out with smart controls that inform drivers how to improve gas mileage. Tiny add-on gadgets can do the same thing. They typically plug into a vehicle's OBDII diagnostic port (found on all cars built after 1996) and determine optimal driving speed while calculating fuel savings. (Price: $170 to $300)
Board games. In the old days, family entertainment didn't require multiple power cords. One board game, "Keep Cool: Gambling with the Climate!," not only has a small carbon footprint, it also teaches players about the politics of global climate change. (Price: $40)
Tire pressure gauge. When gasoline prices climbed over the summer, President-elect Barack Obama suggested everyone check their vehicle's tire pressure. Experts agree that keeping tires inflated properly can improve gas mileage by 3 percent. And a tire pressure gauge makes a fine stocking stuffer. (Price: about $5 for pen-shaped gauge)
Find a Recycling Center Near You
Stay up to date on the latest science news by signing up for our Essentials newsletter.
Michael Schirber began writing for LiveScience in 2004 when both he and the site were just getting started. He's covered a wide range of topics for LiveScience from the origin of life to the physics of Nascar driving, and he authored a long series of articles about environmental technology. Over the years, he has also written for Science, Physics World, andNew Scientist. More details on his website.