ADHD Rates Are Lower at Higher Elevations, Study Finds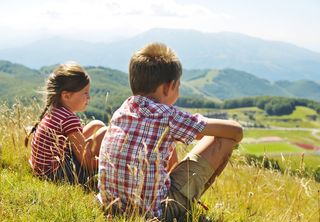 (Image credit: Mrovka/Shutterstock.com)
People who live at high elevations breathe air that has less oxygen, and studies have shown that this is linked with a variety of psychiatric and substance abuseproblems over the long term.
But a new study shows an upside to living at high elevations: the prevalence of attention deficit hyperactivity disorder, or ADHD, decreases substantially as elevation increases.
In the study, researchers found that the state of Nevada — which has an average elevation of 5,517 feet — had the lowest percentage of children diagnosed with ADHD of any state, with 5.6 percent of children there diagnosed with the condition.
In fact, all of the states in the Mountain West region had rates of ADHD that were well below the 2007 national average rate of 9.5 percent, according to the study published online March 25 in the Journal of Attention Disorders.
The study authors said one reason there could be fewer ADHD cases may be the higher levels of the brain chemical dopamine that are produced as a reaction to getting less oxygen. Dopamine levels increase with rising elevation, and the risk for getting ADHD diminishes, the researchers said. [ADHD Medications: 5 Vital Questions and Answers]
If the findings are confirmed in further studies, they could have important implications for treating people with ADHD, said Dr. Perry F. Renshaw, a co-author of the study and a professor of psychiatry at the University of Utah. "To treat ADHD, we very often give someone medication that increases dopamine," Renshaw said. But parents and children with ADHD, and their physicians, should consider the effects of higher elevations. For example, a time without medication — what doctors call a stimulant holiday — could be conducted while taking a trip to higher elevations. "That might be better for everybody," he said.
In the study, the researchers mined the data from two previous national health surveys, one of 92,000 households and the second of 373,000 households. Both surveys revealed the number of children diagnosed with ADHD. The researchers paired this information with average elevation of each state taken from NASA's Shuttle Radar Topography Mission and the National Geospatial-Intelligence Agency.
This marriage of databases showed that for every 1-foot increase in elevation, children's likelihood of being diagnosed with ADHD decreased by .001 percent, the researchers said.
The data showed that North Carolina, whose average elevation is 869 feet above sea level, had the highest percentage in the U.S. of children diagnosed with ADHD, with 15.6 percent. The state was followed closely by three other states with low average elevations — Delaware, Louisiana and Alabama.
In contrast, Utah, with an average elevation is 6,100 feet, had a rate of ADHD cases about 50 percent of that of states close to sea level.
The researchers took into account other factors — such as children's birth weight, ethnicity and sex (males are more likely to have ADHD) — that could affect ADHD diagnoses and influence the rate of the disorder in each state, but the link with elevation held.
Dr. Douglas G. Kondo, assistant professor of psychiatry at the University of Utah and senior author of the study, noted there are two key limitations to the study. First, it was based on secondary analysis of two datasets that were designed to answer questions other than what might be the effect of high altitudes.
Second, the rates of ADHD might be different if they were determined by clinical evaluations conducted specifically for each study. A wide variety of factors may be responsible for ADHD-type symptoms in children, he said.
But the study is among a growing body of research finding that breathing thin air affects human health. "The reason that the ADHD paper is exciting to us is that prior to now, all of our altitude-related papers have come to the conclusion that altitude is a risk factor," Kondo said. For example, studies have linked reduced oxygen levels with the higher rates of suicide and severe depression that are seen in the high-elevation states of the West.
"But in the case of ADHD, living at altitude may afford some protection. It might be a protective factor instead of a risk of developing an illness," he said.
Follow Live Science @livescience, Facebook & Google+. Originally published on Live Science.
Stay up to date on the latest science news by signing up for our Essentials newsletter.