Abandoned Baby Tiger Triplets Thrive with Zoo's Aid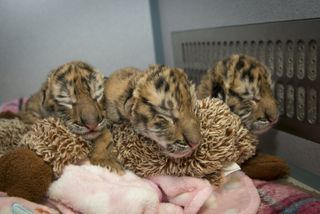 (Image credit: Columbus Zoo)
Three male Amur tiger cubs were born Tuesday (April 21) at the Columbus Zoo and Aquarium in Powell, Ohio.
The baby tigers each weighed 2.5 pounds (1.1 kilograms) at birth, which falls within the typical range of 1.5 to 3 pounds (0.7 to 1.4 kg) for tiger cubs, according to zoo staff. An animal care team monitored the babies closely over a live video feed, and when their mother's maternal instincts didn't kick in, the team rushed in to nurse and care for the cubs themselves.
The cubs are now in an incubator, but they are feeding vigorously and are already looking strong, zoo officials said. [Photos: World's Cutest Baby Animals]
Caretakers at the zoo were worried that the cubs' mother, 10-year-old Irisa, would never conceive. At such an old age and with one undersized ovary, "there were a number of strikes against her," said Harry Peachey, curator of Asia Quest at the Columbus Zoo.
But sure enough, Irisa bred with 11-year-old Foli in early January. Foli has two other litters to his name, and has since been moved to another zoo, based on a recommendation by the Species Survival Plan, which manages populations of endangered species within most U.S. zoos.
At the end of last week, Irisa was on the verge of going into labor, but her behavior was abnormal, according to Peachey. Although she stopped eating, she refrained from moving into the den, where most mothers-to-be quickly go for privacy.
After days of this odd behavior, she finally found solitude in the den and her birth went relatively smoothly, zoo officials said. The first cub was born at 12:40 a.m. local time, and the last arrived at about 2:23 a.m.
But Irisa's maternal instincts never really kicked in. "She did nurse one cub, but she didn't nurse the other two," Peachey told Live Science. "And she wasn't bringing them toward her. She wasn't doing all the things that we regard as normal maternal behavior."
Soon, Irisa left the den altogether and climbed up onto a shelf, where she couldn't be reached.
But the tiger cubs were hungry and they called for their mother. By 6 a.m. local time, Irisa had had enough, zoo officials said. She got off the shelf, walked into the den, and covered her three cubs with straw. At that point, Peachey and his team headed in. "She didn't do anything aggressive but that was a pretty good signal that she might," Peachey said.
The cubs are now being hand-reared by the zoo's animal keepers, meaning they're incubated and on a feeding schedule. This is only the zoo's second litter of tiger cubs, but they're experienced in caring for the little guys, Peachey said. The zoo's first litter also needed to be hand-reared after an electrical storm sparked a power outage.
Amur tigers are critically endangered. Currently, there are fewer than 150 Amur tigers in all of the associated zoos and aquariums in North America. According to Peachey, there are likely only 400 Amur tigers remaining in the wild. The number one cause of mortality for these animals is humans, and it's estimated that humans directly cause 80 percent of tiger deaths.
Follow Shannon Hall on Twitter @ShannonWHall. Follow Live Science @livescience, Facebook & Google+. Original article on Live Science.
Stay up to date on the latest science news by signing up for our Essentials newsletter.