'Dawn of the Planet of the Apes': How Actor Embraced Orangutans for Role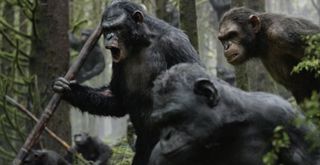 (Image credit: © 2013 - Twentieth Century Fox Film Corporation.)
Losing yourself in an acting role might be difficult, but imagine how hard it is if the character you're playing isn't human at all.
In the new movie "Dawn of the Planet of the Apes" — the second in a series of films that explain how the dystopia of the "Planet of the Apes" (1968) came to be on Earth — digitally rendered great apes of all kinds played by human actors work together to create a community. One of the more subdued, thoughtful characters is Maurice, a wise orangutan played by Karin Konoval.
Konoval has been a professional actor for 25 years. She spoke with Live Science about how she got into character as Maurice, how the role has inspired her to continue learning about apes, and how real-life orangutans taught her how to act like one of them. [8 Humanlike Behaviors of Primates]
LS: Was accuracy important to you when playing Maurice?
Konoval: Every single thing in the performance has to come from me first. Every choice, every look, the way he reacts to anything in particular, I have to have that. The integrity of the performance, not just being comprehensive in getting the integrity of orangutans in general, but also specific to Maurice's character and his choices along the way.
I feel a huge responsibility for maintaining his integrity as an orangutan — integrity of who he as the wise old soul he is.
LS: What are some of the challenges you faced when playing a nonhuman primate?
Konoval: To bring the weight to Maurice that I don't have in my own body — during the first movie, one of the things we did to give my arms the weight so that my movements would register was we attached five-pound weights to each of my arms so that every step I took would quadrupedally register, because I couldn't make that up later. Because it's entirely performance-capture, if I don't do it first, it's not going to look right later when digital gets to work on it later.
The psychology — Maurice's watchfulness, his observance of everything, the stillness, finding my way to that and the strength of that [stillness]. Maurice, as a character, in some ways, is no different than exploring any other human character that I've played except that it's a different species, but every character has its own integrity whoever they are.
LS: What was your connection to great apes before you started working on "Rise of the Planet of the Apes" and "Dawn of the Planet of the Apes?"
Konoval: I actually had no connection with great apes before the movie. Maurice, in fact, introduced me to the world of orangutans. That was the beautiful gift.
With all the work I've done in the past as an actor, I'm a very committed actor that does extensive research. What I've found in the past is that I go into a subject in full detail, and then once the project is done, I generally leave it and move on to the next. What happened with this is completely different. Once I had played Maurice and began to get to know real-life orangutans and the people who work with them and some of the issues facing them … then I became more and more interested. So it's become a large part of my personal life as a result of that.
LS: What kind of work have you done with apes since you became interested in them?
Konoval: This just became an enormous interest of mine as a result of playing Maurice. I continued to spend time with specific orangutans who live at Woodland Park Zoo in Seattle and to get to know other orangutans in other situations around North America, and conservation work through the Orangutan SSP [Species Survival Plan].
I consider myself a student. When I was researching to play Maurice in "Rise of the Planet of the Apes" when I was first cast, I did the usual reading and watching videos and everything. I was being trained expertly in ape movement by our ape performance coach, Terry Notary. Somewhere along the way, I had all of this information in my body and my mind, and I needed to bring it together. One day I was Googling and I saw this video online called Towan the Orangutan Paints. I watched it and it turned out to be an orangutan, Towan, a mature male who is 46 years old and he lives in Seattle at Woodland Park Zoo. I went down to meet him and study him for a day and it was quite a magical meeting and that brought everything into focus for me in terms of playing Maurice. [Image Gallery: Snapshots of Unique Ape Faces]
When "Rise" opened a year and a half later, I was invited for a personal introduction to Towan. I went down and met him and met the other orangutans who live there and at that point continued to visit them and get to know the people that take care of them.
LS: What kind of mannerisms did you learn from the orangutans?
Konoval: Meeting Towan was a key to [my performance]. The first orangutan I met was actually Bruno at the Los Angeles zoo. He's a feisty young male. I got a lot of Maurice's feistiness — when Maurice is feisty — from Bruno. But the very deep soul of Maurice comes from Towan. I was influenced by a number of things and of course all the study in general that I've done. Orangutans move in a very specific way that is different from chimpanzees or gorillas. Their [orangutans'] arms are so powerful and their feet almost function as hands as well, because they're the only arboreal ape. I've taken it from a lot of different places. It sort of came down to an instinctive observing of Towan in particular … It's been an intensive study of orangutans to bring the integrity of Maurice to my performance.
"Dawn of the Planet of the Apes" premieres today (July 11).
Follow us @livescience, Facebook& Google+. Original article on Live Science.
Stay up to date on the latest science news by signing up for our Essentials newsletter.
Miriam Kramer joined Space.com as a staff writer in December 2012. Since then, she has floated in weightlessness on a zero-gravity flight, felt the pull of 4-Gs in a trainer aircraft and watched rockets soar into space from Florida and Virginia. She also serves as Space.com's lead space entertainment reporter, and enjoys all aspects of space news, astronomy and commercial spaceflight. Miriam has also presented space stories during live interviews with Fox News and other TV and radio outlets. She originally hails from Knoxville, Tennessee where she and her family would take trips to dark spots on the outskirts of town to watch meteor showers every year. She loves to travel and one day hopes to see the northern lights in person.