Watercress Named Top 'Powerhouse' Veggie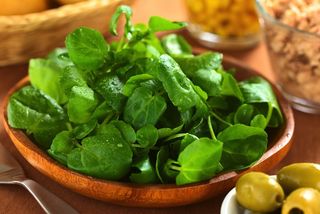 (Image credit: <a href='http://www.shutterstock.com/pic.mhtml?id=109187579&src=id'>Watercress photo</a> via Shutterstock)
For a sure way to boost the health benefits of your next meal, you may want to add watercress to the salad bowl. Its tangy leaves ranked highest on a new list of "powerhouse" fruits and vegetables, a new study says.
Watercress captured the No. 1 spot and a perfect score of 100 percent in the powerhouse-produce rankings. The other powerhouses in the top 10 spots were Chinese cabbage, chard, beet greens, spinach, chicory, leaf lettuce, parsley, romaine lettuce and collard greens, the research found.
The study used "powerhouse" as a term to describe foods most strongly linked with reducing the risk of chronic disease. The study developed a way to classify, measure and rate 47 different fruits and vegetables by calculating a score for each food based on its health benefits. [See the full list of powerhouse produce]
"The score is a nutrient-to-calories ratio," said study author Jennifer Di Noia, an associate professor of sociology at William Paterson University in Wayne, New Jersey. The score, given as a percentage, quantifies the amount of beneficial nutrients contained in the fruit or vegetable relative to the energy (measured as calories) the food provides. Nutrition experts refer to this number as "nutrient density."
"This study is the first of its kind to define and rank powerhouse fruits and vegetables," Di Noia told Live Science. The findings are published online today (June 5) in the journal Preventing Chronic Disease.
Powerhouse produce
Among the 47 raw fruits and vegetables involved in the study, all but six of them — blueberries, raspberries, cranberries, tangerines, garlic and onions — met the "powerhouse" criterion. These six had scores below 10 percent, the minimum cutoff point to pass the "powerhouse" test.
In the study, as well as in nutritional guidelines, a food earned "powerhouse" status by providing, on average, 10 percent or more of the daily recommended intake of 17 qualifying nutrients in a 100-calorie serving.
These 17 qualifying nutrients, which health organizations have identified as helping to protect against cancer, heart disease and other chronic illnesses, were: calcium, fiber, folate, iron, niacin, potassium, protein, riboflavin, thiamin and zinc, and several vitamins (A, B6, B12, C, D, E and K).
Foods containing more of these nutrients ranked highest on the list, and those with fewer nutrients ranked lower, Di Noia explained.
It may seem surprising that blueberries and garlic, for example, were not considered "powerhouses." These foods have been widely hailed as nutritional superstars packed with valuable antioxidants and disease-fighting properties.
It is possible that the six fruits and vegetables that didn't make the cut as "powerhouses" were not good sources of the nutrients used to index the foods, but they are rich in phytochemicals that provide health benefits, Di Noia said.
The rankings did not include data on phytochemicals, such as antioxidants, because there are no recommended intakes for these plant-based chemicals, and uniform data on the amount of these phytochemicals in foods are also lacking, she said.
Using the list
The top half of the powerhouse list included mainly green leafy and cruciferous vegetables, from kale and spinach to Brussels sprouts and broccoli.
Citrus fruits, yellow- and orange-colored vegetables, and some berries were grouped in the bottom half, the findings showed.
The five lowest-ranked powerhouses were grapefruit (white), sweet potato, leek, blackberry and turnip.
The list of 47 foods that the researchers looked at left out some popular foods. Previous research had determined that such popular mealtime standbys as apples, corn, potatoes and bananas were considered nutrient-poor foods, with scores falling below 10, the "powerhouse" criterion.
Still, that doesn't mean people shouldn't include these foods in their diets to increase their overall intake of fruits and vegetables.
The list of powerhouse produce may help consumers focus on how to get the most nutrients from their foods, Di Noia said.
Another advantage is that it may be easier for consumers to understand a number score than to think about whether a food belongs to a particular group, such as cruciferous vegetables or carotenoids, she said.
"I think the message is to encourage consumption of all of the foods [on the powerhouse list], which, by definition, are good sources of the qualifying nutrients," Di Noia said.
The study is published today (June 5) in the journal Preventing Chronic Disease.
Stay up to date on the latest science news by signing up for our Essentials newsletter.
Cari Nierenberg has been writing about health and wellness topics for online news outlets and print publications for more than two decades. Her work has been published by Live Science, The Washington Post, WebMD, Scientific American, among others. She has a Bachelor of Science degree in nutrition from Cornell University and a Master of Science degree in Nutrition and Communication from Boston University.