Warmth, Severe Weather Threat Will Return to the Midwest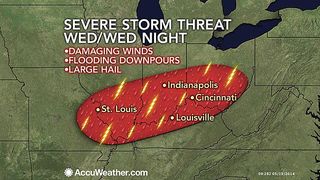 (Image credit: Accuweather.com.)
This article was provided by AccuWeather.com.
After several days of temperatures averaging 10 to 20 degrees below average, warmer air will move into the Midwest early this week.
For Chicago, St. Louis, Missouri, Des Moines, Iowa and Indianapolis, Indiana, afternoon temperatures on Tuesday will be in the 80s, or 30 degrees higher when compared to late last week.
It will be more humid as well, which will make it feel even warmer than the actual temperature.
The combination of warm and humid air will be fuel for thunderstorms to develop late on Tuesday along the I-80 corridor from central Iowa to northern Illinois. These storms can contain some cloud-to-ground lightning, a brief downpour and perhaps a brief gust of wind.
On Wednesday, conditions will come together to support strong-to-severe thunderstorms from the middle part of the Mississippi Valley through the Ohio Valley.
Storms on Wednesday afternoon into Wednesday night could contain damaging winds, large hail and flooding downpours.
St. Louis, Missouri, Indianapolis, Indiana, Louisville, Kentucky and Cincinnati, Ohio, could be directly affected by these intense thunderstorms.
RELATED: Forecast Temperature Map Severe Weather Watches, Warnings Southern High Plains: Needed Rain to Follow Fire Danger
Impacts could include slow travel and a higher risk of accidents on Interstates 70, 65, 57, 64, 74 and 71, along with flight delays at the major airports.
Power outages are also a threat due to lightning strikes and high winds pushing tree limbs onto power lines.
A drier and cooler pattern will set up during the latter portion of the week across the Midwest.
AccuWeather.com. All rights reserved. More from AccuWeather.com.
Stay up to date on the latest science news by signing up for our Essentials newsletter.