Signs of Chaos | Space Wallpaper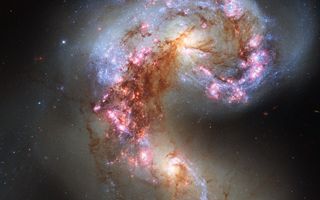 (Image credit: ESA/Hubble & NASA)
This dazzling space wallpaper of the Antennae Galaxies shows obvious signs of chaos. Clouds of gas are seen in bright pink and red, surrounding the bright flashes of blue star-forming regions — some of which are partially obscured by dark patches of dust. The rate of star formation is so high that the Antennae Galaxies are said to be in a state of starburst, a period in which all of the gas within the galaxies is being used to form stars. This cannot last forever and neither can the separate galaxies; eventually the nuclei will coalesce, and the galaxies will begin their retirement together as one large elliptical galaxy.This image uses visible and near-infrared observations from Hubble's Wide Field Camera 3, along with some of the previously-released observations from Hubble's Advanced Camera for Surveys.
Stay up to date on the latest science news by signing up for our Essentials newsletter.
Space.com is the premier source of space exploration, innovation and astronomy news, chronicling (and celebrating) humanity's ongoing expansion across the final frontier. We transport our visitors across the solar system and beyond through accessible, comprehensive coverage of the latest news and discoveries. For us, exploring space is as much about the journey as it is the destination.