Genetically Modified Skin Cells Fight Infection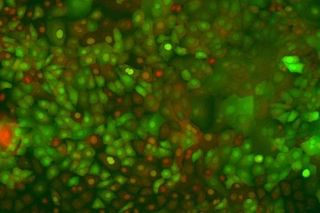 (Image credit: University of Cincinnati)
Patients with burns over large portions of their bodies are highly susceptible to infection. Even the latest techniques, involving cultured skin grafts rather than skin harvested from the patient, can fail due to infection.
New research demonstrates that genetically modified skin cells added to cultured skin substitutes may fight potentially lethal infections in patients with severe burns.
Dorothy Supp and her team discovered that skin cells genetically altered to produce higher levels of human beta defensin (HBD4—a protein) killed more bacteria than ordinary skin cells.
"If we can add these genetically modified cells to bioengineered skin substitutes, it would provide an important defense system boost during the initial grafting period, when the skin is most susceptible to infection," Supp said.
In a three-year study, Supp isolated the HBD4 gene from donated tissue samples, and transferred it to surface skin cells to enhance the skin's infection-fighting abilities. The test cells were then infected with a type of bacteria commonly found in hospitals and allowed to incubate. Analysis demonstrated that the genetically altered cells with HBD4 were more resistant to microbial infection.
Supp is a University of Cincinnati (UC) faculty member and researcher at Cincinnati Shriners Hospital for Children. She believes that defensins could become an effective alternative method for burn care and infection control.
This research is being announced in the January issue of the Journal of Burn Care and Research.
The use of cultured skin substitutes for patients with large-scale burns has been in use since the 1980's. Patients with burns covering large areas of their bodies are very difficult, if not impossible, to treat, because of the fact that skin grafts must be taken from the patient's intact skin area. The smaller the area of intact skin, the less skin is available for harvesting and subsequent grafting.
Cultured skin substitutes are actually grown apart from the patient in the laboratory, using cells from the patient's own skin to guard against rejection by the body. The cells multiply and are combined with a collagen matrix consisting of a spongy sheet and gel. The resulting "skin" is grafted directly onto the patient.
Science fiction writers have used the idea of artificial skin since the 1970's. Frank Herbert used the idea in his 1977 novel The Dosadi Experiment, calling it uniflesh. John Varley expanded on the concept in 1984, combining the idea of a skin substitute with a data screen—creating the idea of readout skin:
If you are interested in futuristic forms of skin substitutes, read on:
Read more about genetically altered cells; via MedGadget.
(This Science Fiction in the News story used with permission from Technovelgy.com - where science meets fiction.)
Stay up to date on the latest science news by signing up for our Essentials newsletter.
Bill Christensen catalogues the inventions, technology and ideas of science fiction writers at his website, Technovelgy. He is a contributor to Live Science.