Fitbit Force: Fitness Tracker Review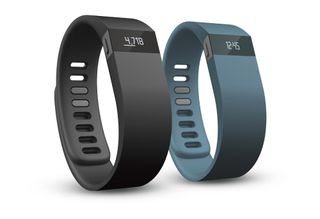 (Image credit: Fitbit)
Editor's Note: On Feb. 20, 2014, the Fitbit Force was recalled by the company because of users' reports of skin irritation. Fitbit will no longer sell the Force, and has set up a website for consumers seeking refunds and returns.
If you're looking for a wearable, we'd recommend looking through our breakdown of the best Fitbit and best Fitness trackers.
The Fitbit Force is a fitness tracker, and over the course of a week the device did a good job measuring my exercise, diet and sleep. The small, easy-to-access display kept me constantly abreast of my activity levels and calories burned, and although the Force wasn't perfect, it inspired me to keep moving. Here's a breakdown of how it worked:
Design/Comfort: ★★★☆☆
The biggest problem I had with the Fitbit Force was how long it took to put the device on my wrist. The rubber band is pretty inflexible, and therefore difficult to attach. Eventually, as the band got a little more broken in, putting it on became a bit easier.
Once I had the Force on my wrist, however, it was comfortable to wear for long periods of time. The Force is lightweight, and made of a soft rubber like its predecessor, the Fitbit Flex. The band also comes in a few different colors.
I loved that the Force band's bright display doubles as a watch. Although the Force syncs with a smartphone via Bluetooth, so you can check your stats on your phone, the display let me check my stats on the band itself, without opening the app on my phone.
Using a small button on the side of the Force, I could click through the number of steps I'd taken, calories burned, flights of stairs climbed, active minutes per day and miles walked.
User-Friendliness: ★★★★☆
The free app you can download with the Fitbit Force is very intuitive, and easy to use. As soon as you open the app, it syncs with your device and displays how far you've progressed in your goals for the day. For instance, if I'd walked only 5,000 steps out of my goal of 10,000, the bar measuring those steps would appear in yellow instead of green.
The Force app also gave me some positive reinforcement, sending push notifications that encouraged me to keep going if I was within striking distance of my goals for the day. The band 's vibration feature alerted me when I reached my step goal for the day. All in all, it's a nice system that kept me checking in on my progress throughout the day.
The watch feature was particularly useful, because whenever I glanced at the Force to see the time, I usually ended up scrolling through the tracking metrics, just to see if I was on target for my day. If I wasn't, the lack of progress sometimes convinced me to take a walk around the block or do something else active to raise my scores.
Value of Information: ★★★★☆
The amount of information the Force could collect impressed me. For example, unlike other trackers, the Force can measure how many flights of stairs you climb each day. However, the stair tracker wasn't always accurate (it counted a few more flights of stairs than I actually climbed most days).
The Force gave me default goals to reach every day, after I put my weight, height, age and other information into the app, but I'm not sure exactly how it decided on them.
And like other trackers, the Force suffers from the limits of measuring activity with an accelerometer. The tracker had trouble telling how far I'd walked on an elliptical machine, and it registered an hour of rather-intense yoga as zero "active minutes." I logged my own workouts to be sure that I got credit where credit was due.
It's easy to turn on the sleep-tracking feature; you just hold down the button on the side until a timer starts. It seemed to track my sleep accurately enough — it knew when I was awake versus when I was asleep — but I'm pretty sure the tracker counted it as "restless sleep" whenever I moved, even if I wasn't actually that restless.
Enjoyment and Inspiration: ★★★★☆
I loved having the Force on my wrist for a week. It was fun to see how many steps I took each day and how many calories I burned. It was great to have all of the information available both at the click of a button on my wrist, or through my phone.
The graphs showing the peaks and valleys of my activity each day were also inspirational. I got to see how much my commute contributes to the number of steps and active minutes I accumulate through the course of the day, and it was interesting to see how my progress changed when I travelled, or didn't hit the gym.
I could also input the food I ate to track calories taken in, versus calories burned. At the end of the week, FitBit sent me an email summary of everything I'd done the week before, giving a nice perspective on how much I'd worked those seven days.
All in all, the device wasn't intrusive, and it did make a bit of a difference on days when I felt particularly lazy. It provided just the kick I needed to get out the door, and walk that extra distance to reach my goal.
Conclusion: 15 out of 20 stars
Overall, I enjoyed my week with the Fitbit Force. It was a nice little device, with an easy-to-use app that kept track of my activity pretty accurately. I liked that all of my stats were right there on my wrist and easy to access even without my phone.
I didn't like that the Force failed to reliably track activity other than walking, and that putting the band on my wrist presented a real hassle.
Follow Miriam Kramer @mirikramer and Google+.
Stay up to date on the latest science news by signing up for our Essentials newsletter.
Miriam Kramer joined Space.com as a staff writer in December 2012. Since then, she has floated in weightlessness on a zero-gravity flight, felt the pull of 4-Gs in a trainer aircraft and watched rockets soar into space from Florida and Virginia. She also serves as Space.com's lead space entertainment reporter, and enjoys all aspects of space news, astronomy and commercial spaceflight. Miriam has also presented space stories during live interviews with Fox News and other TV and radio outlets. She originally hails from Knoxville, Tennessee where she and her family would take trips to dark spots on the outskirts of town to watch meteor showers every year. She loves to travel and one day hopes to see the northern lights in person.