Twitter Abuzz with #Shutdown's Effects on Science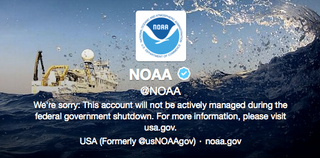 (Image credit: Screen shot/Twitter)
The federal government has been through federal shutdowns before — there have been 17 of them since the 1970's in fact — but the world and technology are very different from where they were during the last shutdown, which happened over 16 days in 1995-1996. Communication over the Internet then took place via email and rudimentary chat rooms and forums, but today, we have Facebook, Vine and Twitter, which can help illuminate the scope of a government shutdown.
The current shutdown is having particular effects for the sciences, with portions of the CDC and FDA being shut down, as well as all of the country's national parks and the Smithsonian museums and zoo. All but 600-odd NASA employees are being furloughed, which could affect future missions, and the U.S. Geological Survey won't be able to monitor water quality or ecosystem restoration.
On the morning of the shutdown (Oct. 1), a flurry of tweets came from various science-related government agencies, noting that the accounts would be inactive until the budget issues were resolved and the agencies once again had funding. Here is a sampling of the messages sent out:
NASA
@NASA: Sorry, but we won't be tweeting/responding to replies during the government shutdown. Be back as soon as possible. http://notice.USA.gov
@NASA: Due to the gov't shutdown, all public NASA activities/events are cancelled or postponed until further notice. Sorry for the inconvenience.
U.S. Fish & Wildlife Service
@USFWSHQ: Due to a lapse of government funding, this account will not be active until further notice.
Environmental Protection Agency
@EPA: The federal government is currently shut down.
U.S.D.A. Forest Service
@forestservice: Due to the lapse in federal government funding, this channel will not be updated until the federal government reopens.
U.S. Geological Survey
@USGS: As a result of the lapse in appropriation, we will not be actively using this account until further notice.
National Park Service
@NatlParkService: Because of the federal gov't shutdown this National Park Service Twitter feed is inactive. We'll start tweeting again when we get back
Centers for Disease Control & Prevention
@CDCgov: We're sorry, but we will not be tweeting or responding to @ replies during the government shutdown. We'll be back as soon as possible!
National Oceanic and Atmospheric Administration
@NOAA: We will not be Tweeting or responding to @ replies during the #governmentshutdown. Pls see http://1.usa.gov/16U8kBs for more info. Thank you.
National Science Foundation
@NSF: Due to the government shutdown, we will not be tweeting or responding to any replies. We will return as soon as possible.
White House Office of Science and Technology Policy
@whitehouseostp: Due to the lapse in appropriations, this @whitehouseostp twitter account will be inactive until further notice. We regret any inconvenience.
Smithsonian National Zoo
@NationalZoo: Thank you very much for supporting the Smithsonian's National Zoo. We'll miss you, and see you after the #shutdown ends!
Smithsonian National Air and Space Museum
@airandspace: During the federal government #shutdown, we will not be updating social media. Please visit http://airandspace.si.edu
Smithsonian National Museum of Natural History
@NMNH: We do not plan on updating social media other than to inform you of the operating status of the museums #shutdown
Follow Andrea Thompson @AndreaTOAP, Pinterest and Google+. Follow us @livescience, Facebook & Google+. Original article on LiveScience.
Stay up to date on the latest science news by signing up for our Essentials newsletter.
Andrea Thompson is an associate editor at Scientific American, where she covers sustainability, energy and the environment. Prior to that, she was a senior writer covering climate science at Climate Central and a reporter and editor at Live Science, where she primarily covered Earth science and the environment. She holds a graduate degree in science health and environmental reporting from New York University, as well as a bachelor of science and and masters of science in atmospheric chemistry from the Georgia Institute of Technology.